3 Ways Window Cleaning Scheduling Software Can Increase Your ROI
By My Service Depot on Tuesday, November 29, 2016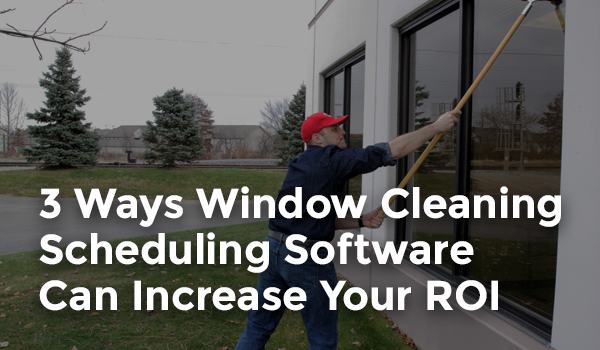 As a business owner, you are always looking for ways to improve the way your business runs, and ultimately, your return-on-investment (ROI). To be successful you must continually monitor the financial health of your company. Everyone has different ideas and methods for running their business and streamlining processes, but for those in the window washing business, window cleaning scheduling software has proven time and time again its effectiveness in improving the ROI of companies. Here are three of the ways window cleaning software can help your business.
Improved Customer Service

One of the biggest ways window cleaning software can help your company is through improved customer service. With scheduling software such as Smart Service, you can eliminate process inefficiencies, which helps streamline your customer service department. Window cleaning scheduling software allows your representatives to easily see what jobs workers are completing at what times, allowing your reps to answer calls with more speed and certainty. Your customer service team will also be able to see customer history, payment history, and any other pertinent work order notes made by your field cleaning professionals. Additionally, by giving your customer service team an additional outlet for communication, they can easily cancel and reschedule the work order if need be, minimizing the time it would normally take to reschedule and notify the window washer. Improved processes in your customer service department can translate to increased employee productivity.
Increased Employee Productivity
From streamlined work routes to electronic timekeeping, window cleaning scheduling software can have a dramatic impact on the productivity of your employees. Because scheduling software can improve the efficiency of the customer service department, your field workers will be able to receive instant communications alerting them to changes in their schedules. With instant notifications about work orders and schedule changes, your employees will be able to alter their route accordingly, without wasting time driving to a canceled or rescheduled job. Your window cleaners will also be able to streamline their routes with window cleaning software.
Scheduling conflicts and wasted time driving to jobs are two major pain points all service industry companies face. With paper notes and schedules, it can be difficult for drivers to map out an efficient route to save time, gas, and money, especially when their schedules can change mid-day. Scheduling software eliminates the time wasted driving across town five times. As your company's reps schedule new appointments, your software can automatically find the best route, time, and worker for the job.
Other benefits of window cleaning scheduling software include the ability to clock in and out via the software itself, instead of requiring employees to use the traditional punch cards at the brick and mortar locations where they work. Software such as iFleet allows business owners to track workforce progress and see the physical location of workers. Increased employee productivity allows your company to start completing more jobs in the same number of hours by eliminating inefficiencies. This directly correlates to more cost-effective operations, increasing revenue and ROI.
Improved Communication

Communicating with employees who travel can be difficult, especially when phone calls are the main form of contact. Playing phone tag is not only unproductive, but it can cause bigger issues such as missing a payment, missing a change to a work order, or forgetting the right gear for a job. Software made for window cleaning companies can help consolidate the communication process between customer service, accounting, employees, and team leads. With phone-only communication, it can be difficult for company representatives to simultaneously take customer calls while alerting employees of possible schedule changes. Using window cleaning software, you can send notifications directly to your employees while simultaneously communicating with customers. Additionally, software like Smart Service boasts integrations with apps such as QuickBooks, Google Calendar, and DropBox, allowing your team to easily share files, invoices, appointments, and memos through one service, instead of using multiple applications or a pen and paper.
Don't underestimate the influence efficient software and streamlined processes can have on your company's ROI. By eliminating wasted time and improving communication and productivity with window cleaning scheduling software, your company could see improvements in revenue and ROI. If you are interested in learning about window cleaning software, contact the experts at Smart Service for your free demo.
---