What do the new Intuit Sync Manager changes mean?
By Ben Yackshaw on Monday, April 11, 2016
Business software can get pretty complex. In fact, most users call it quits after learning what it takes to simply use a program. Few have enough time or patience to learn how their software works. In some cases though, knowing the basics comes in handy. Case in point: Intuit Sync Manager.
What is Intuit Sync Manager? Intuit Sync Manager is a utility that runs in the background on Windows machines to facilitate integration between desktop versions of QuickBooks and various third party software applications. Starting May 31, Intuit will officially discontinue Sync Manager. This means that for most intents and purposes, a great many software suites that boast of QuickBooks integration will no longer function as advertised.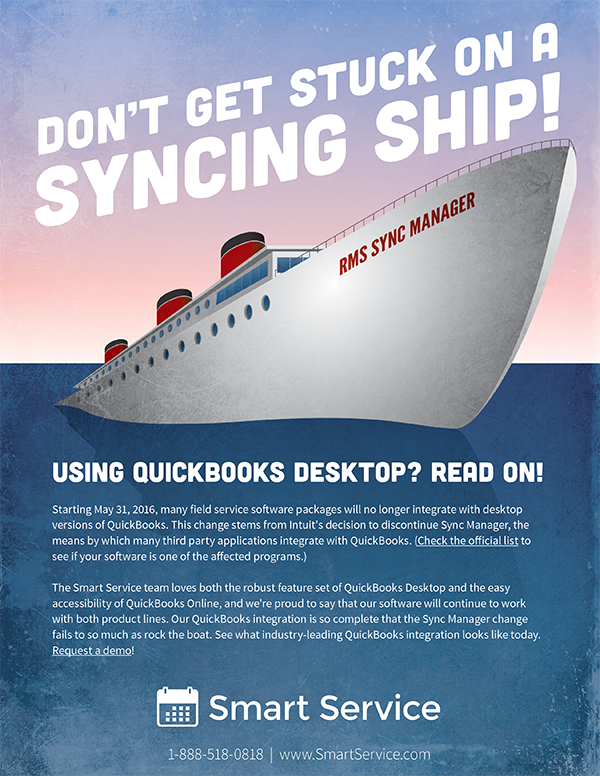 If your company currently relies on a third party program to conduct business, you'll want to get in touch with your software provider. Find out what will happen to your system once Sync Manager becomes a thing of the past. (For a list of impacted programs, click here.)
Many third party software companies are forcing their customers to migrate to QuickBooks Online to get around the change. Several failings make this solution less than ideal. Firstly, a lot of data gets left behind in such a migration. Second, QuickBooks Online simply cannot compare to the desktop versions of QuickBooks in terms of features and functionality. When running a company, one needs access to the best, and in the case of accounting software, QuickBooks desktop trumps QuickBooks Online, plain and simple.
Is Smart Service affected by this change? Nope! Not every program that works with desktop versions of QuickBooks relies on Sync Manager. Smart Service's QuickBooks integration uses QuickBooks Foundation Class to interact with QuickBooks in real time. This integration is more complete and thorough than Intuit Sync Manager's offerings and will be unaffected come May 31.
---