5 Summer To-Do's to Help Your Field Service Company Prosper
By My Service Depot on Tuesday, May 23, 2017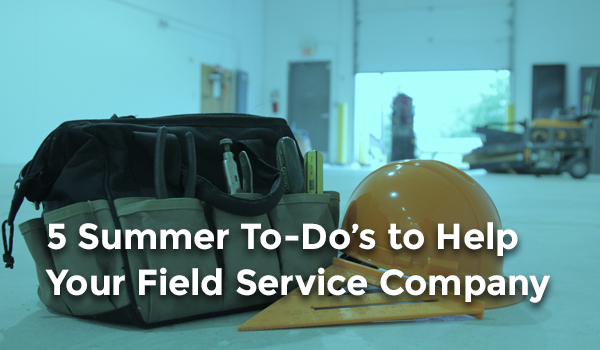 If a company isn't flourishing, it's declining. This truth comes as a harsh one for some business owners. The key to furthering your organization is to think aggressively, be proactive in your sales, and operate diligently with customer service. In one area or another, your company must constantly push forward. Stagnant figures can't become acceptable when dealing with the overall progress of your field service company. The age-old sales tactic of "always be selling" comes to mind. For our purposes, let's modify this adage to "always be growing." Drive must first come from the leadership in your company, but employees also need to have drive and motivation in the field service industry. With every worker on the same page and with a plan to move forward, noticeable boosts in performance and profits will inevitably follow. With summer approaching fast, we have five "to-do's" that can help grow your field service company from a dormant one into a prosperous one.
Know and Market to Your Pipeline
One of the most crucial items for businesses to track is their sales pipeline. With small field service businesses, every potential lead becomes incredibly important. Unfortunately, when technicians or managers wear more than one hat, leads tend to slip through the cracks. You must monitor this facet of the organization and give it plenty of attention. Clients need to feel engaged and that they are a priority. If someone calls in with questions or seeks assistance, counter with hard data. Inform them of promotions or seasonal sales going on for that month. If you don't book a service call immediately, follow-up in a few days to see if needs have changed. Sometimes trying back at a different time works because it gives the potential lead more time to think over their options. Tracking these potential leads and following them through the conversion process serves as a best practice for developing sales while allowing customers to feel involved and valued.
Make Your Technicians Marketing Pros
Another way to keep clientele morale up is to give your field technicians more power. Let field workers become part of the conversion process by equipping them with the tools to market your brand and services. Providing coupons or business cards to every technician makes an essential first step. Putting a physical piece of your organization in your customers' hands ensures that your organization remains on their minds, eager to help meet their needs.
Since your technicians meet face-to-face with clients, give them digital tools to remain in contact as well. Train your technicians on phone communication and social media engagement to connect directly to your audience. Doing so helps initiate a direct conversation between the tech and the client to make the task more personal and customized. Sales workers don't spend as much time on a job site, and sometimes questions may arise, such as rates or timetables. A technician who can answer sales questions makes the entire organization look competent and fully equipped to handle anything.
Take Your Field Service Company Digital
This item can potentially revolutionize the way your field service business operates. Using intuit field service management software will connect your workers to each other for instant access to documents and company resources. Field service software gives your techs an unlimited supply of materials and makes obtaining records instantaneous.
Service management software makes the first and second to-do items on our list a breeze. Keeping digital records of the account is a perfect way to monitor where it is in your sales pipeline. Upon completion of the service, mark the client's record that the sales lead has converted and received assistance. Doing so will keep your sales pipeline completely visible and transparent to employees throughout the company.
Empowering Your Customer
Staying connected to your clients makes up a critical part of best business practices. Constant communication will ensure you put clientele needs first and provide them with a sense of empowerment. If cancellations or delays arise on either end, the other party should immediately know about it. This will help rectify the situation as soon as possible and will prevent excessive wait times.
Always Show Appreciation
The most obvious tip, often forgotten in many industries, is to be grateful for the business your organization receives. Without patron dedication, many field service companies would fail. Referrals have always been and forever will be the best form of marketing. Nothing quite says "job well done" like someone telling friends about the exceptional experience they had. Thank customers for their business and their referrals. "Regulars" make up a majority of income in any industry. Coupons, discounts, or thank you emails serve as fantastic ways of showing how much someone's business means to you. These tangible ways of spreading visibility make tracking your pipeline simple. Coupon or discount codes on fliers or emails ensures that the prospect has converted.
Profits Reflect Performance
When the peak months of summer hit and many industries slow down, these tips will keep your company expanding. Staying proactive towards growth and planning for success ensures positive outcomes and increased profits. Avoid stagnant figures this upcoming summer and keep your business practices moving forward.
---