Routzy: The Ultimate Sales Tool
By Skip Stringfield on Sunday, September 20, 2015
Do you wish your service company had a better way to make sales in the field? Would you like to turn your sales reps into completely self-sufficient sales champions? Do you crave the ability to move from the moment you first contact a lead to the moment work is completed—in the same software system?
Well, we've got some good news! This week, our team proudly unveiled the solution to all of your problems. Ladies and gentlemen, I'm proud to announce Routzy, the ultimate mobile sales tool!
What is Routzy? Routzy is a do it all sales center condensed into a spiffy, intuitive iPad app. Give your reps Routzy, and you've given them a customer database that goes wherever they do. Watch with pride as they harness this tool to make presentations, create quotes, set followups, and close deals. The kicker? Routzy is 100% integrated with Smart Service! Check out the video to get a better idea of how it works:
Of course, the above primer only scratches the surface of what Routzy can do. Notable features include:
Sales contact management.
Sales route planning.
GPS reporting and navigation.
Prospect contact histories.
Two-way Smart Service integration.
Follow-up reminders.
Intuitive quote/proposal creation.
PDF form support.
Barcode scanning.
Freehand and grid-based drawings.
Annotated pictures.
Automated activity reporting.
Dropbox integration.
Between Routzy and our field service app iFleet, we now give your service company the ability to go from the moment of the sale to the moment service is completed. The Smart Service software system is your true one-stop shop for all of your business software needs.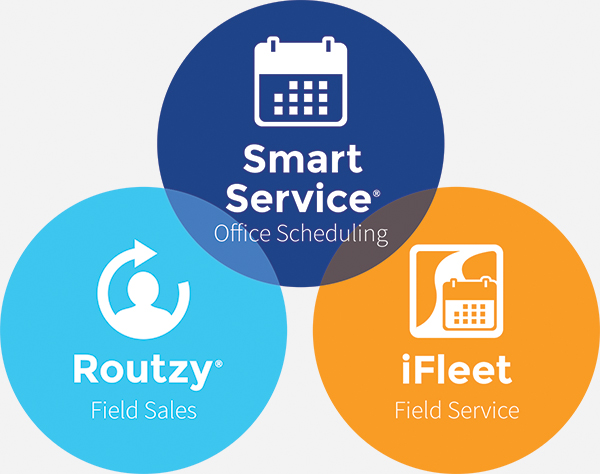 If you'd like to see Routzy in action, request a free, personalized demo today!
---