Diagnostic Checklist for Your Plumbing Company
By My Service Depot on Monday, February 20, 2017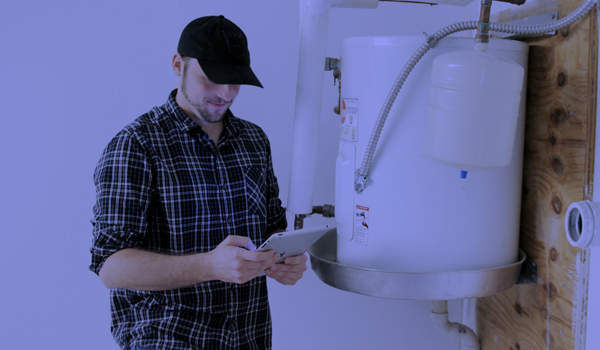 As the seasons change, now serves as a great time to start auditing your plumbing company to ensure it continues to run as efficiently as possible this year. From reevaluating your pricing to implementing plumbing software and from auditing the advertising budgets to refreshing employee skills, a variety of actions can ensure your plumbing company performs at its best this year.
Money Pits and Service Pricing
Job estimation poses one of the greatest challenges to running a service business. For newer plumbing technicians and business owners, this process constitutes an essential component of maintaining profitability and staying in business. Determining the cost of each job depends on a number of factors, including overhead, labor costs, material costs, and profit. An estimate must take into account all four of these factors to keep a business afloat.
Simply calling other businesses and asking what they charge for certain jobs (or for their hourly rate) does not represent a successful approach to business. Consider the following aspects when determining job cost:
Calculating Overhead
One of the most misunderstood concepts in the industry is calculating overhead. This applies in particular to the smaller companies just starting out. Even if you own your work vehicle outright, eschew advertising, use a spare bedroom as an office, and never buy new tools you will still have overhead. You may avoid paying for these things with money, but you will end up paying for them in other ways. That requisitioned bedroom could otherwise make a playroom for your kids, the van will still need regular oil changes (even if you do them yourself), and tools will depreciate, necessitating eventual replacement.
In an established company, overhead is a little easier to understand. You know the cost of your rent, utilities, fleet costs, and various office expenses. However, reviewing your monthly revenue and comparing the figure against your cash on hand can reveal discrepancies. Are you tracking that new order of business cards? Did you neglect to factor in repairing the coffee machine at the shop? These little things can add up over time, making accounting at the end of the year very difficult.
It's a great idea to periodically audit your overhead to see if you are paying for things that are unnecessary. Consider attempting to negotiate prices for certain items. Investigate the idea of switching to other vendors. You can also evaluate rental costs versus purchased equipment costs and other areas of your business to see where you can reduce costs. All of this requires an efficient use of accounting software, such as QuickBooks.
Additionally, if you're the business owner or operator, brainstorm with your employees for ideas that could cut down on costs. Your technicians are valuable resources, and not just for their ability to replace cracked pipes or run new installations. If you ask them, they can be your eyes and ears.
Arriving at an accurate overhead cost is essential to the estimation process. Without it, even with perfectly accurate labor and parts cost estimates, the overall bid for the job can lose you money.
Labor Costs
Labor costs will vary from company to company depending on several factors. City and state taxes fluctuate based on the location of your business. Do a little research into payroll taxes to avoid overpaying these expenses. There is no reason for a business owner to overpay on taxes with the proper payroll protocols in place. Why give the government a short-term loan if you do not have to? If you suspect inaccuracies in your payroll taxes, consider paying someone with more expertise in that area to do an audit for you.
Another layer of complexity in calculating labor costs is the differences in payroll protocols between union, nonunion, and contracted laborers. If you do operate in a union environment, you must consider additional overhead costs. These can include time spent bargaining over contracts and ensuring dues get accurately checked off (deducting union dues from employee wages).
These complexities aside, there exists another source of easily miscalculated labor costs. One must factor in non-billable paid hours that workers accrue, even in the most efficient work environments. For many bookkeepers in plumbing, factoring in paid holidays, vacation days, and company meetings may be the extent of the non-billable labor costs accrued per worker. However, calculating additional time for inefficiencies can ensure that you guard against profit loss on jobs where the unexpected can happen.
Even with the best-trained employees, you have to assume some risk of unexpected issues in certain projects. Factoring in some additional expenses per job can guard against things such as having to go back to the office for equipment or parts that were not restocked in the truck.
One final tip regarding labor costs; if you're experiencing high employee turnover, it is extremely beneficial to evaluate your hiring process, levels of compensation, and programs to improve employee morale and retention. Due to the sizable costs in recruitment, selection, and training new employees, it is in your best interest to keep your good employees happy and away from job boards. New workers come with liabilities like poor workmanship and longer production times. They also tend to require greater oversight.
Plumbing Software
Is your company using plumbing software to streamline work orders, scheduling, and dispatching? If not, you are missing out on an opportunity to not only save your company money, but time as well. Plumbing business software gives you the tools you need to streamline processes in your workplace. Although the price tag associated with integrating new software into your company can intimidate, the money it will save you throughout the year makes it worthwhile. There are a variety of positive implications for using plumber software for your business:
Scheduling: Create efficient schedules for your contract plumbers that prevent extra driving, which effectively eats away time and money. When an office employee receives a call or request for an appointment, plumbing dispatch software will find the time slot that fits best with the client and contractor's schedules. This prevents contractors from driving back and forth across town for appointments, cuts down on mileage, and saves gas. The results will leave your contractors with more room in their schedules for additional work.
Communication: The nature of your company prevents too many meetings where everyone can get together, especially when it takes time away from driving and servicing clients. Plumbing company software programs integrate communication methods to ensure you can stay in touch with your employees at all times. Instead of having company meetings at the office in the morning, hold a virtual meeting using an online meeting service. Virtually hand out memos and bulletins through the dispatch software. Make sure every contractor has the information they need on them as they service clients.
Automation: One of the biggest benefits of integrating a plumbing software program into your business is the automation it bestows every aspect of the business. Through one program, you are able to access all of the information you need about your business. Whether it is historical client data, inventory of equipment or parts, financial information, or getting in touch with office employees/contractors, plumber software can streamline with automation. Without program automation, employees may waste valuable time making calls and waiting for pertinent information from office staff.
Company Website
Your company's website can make or break your success, especially in today's technology-laced environment. Your website and other online profiles help establish credibility with potential customers. An effective website for promoting leads should have:
Forms: Include a contact or quote request form on every (or almost every) page. Website visitors will have a better chance to convert themselves into leads if forms exist on the pages they visit. Make sure you have these on the various pages explaining the services you offer.
Phone Number: Make sure your phone number sits front and center so that website visitors can make a call without any extra clicking or searching.
Testimonials/Reviews: Testimonials and reviews become more and more important to the success of a business on the web. With more than 88% of users saying they trust online reviews as much as personal recommendations, word of mouth promotion is no longer enough.
Third-Party Reviews Sites: Maintaining a profile on third-party sites for visibility and reviews is important. Sites such as Google My Business, Yelp, and Angie's List are all popular websites for people searching for local businesses. Even more so in the home improvement sector, with 57% of all Yelp searches occurring in the category of Home/Local Services.
Trust Seals: Trust seals on a web page improve conversions, especially for small local businesses. Studies estimate that trust seals can improve conversions by up to 8%. However, trust seals just for the sake of trust seals may not actually provide benefit. Trust seals that provide the consumer with a guarantee are more likely to improve conversions.
Analytics: Monitor your website traffic with Google Analytics, the most useful tool in determining flaws in your website. Many business owners use this tool to determine if consumers get stopped somewhere when moving through your site's sales funnel. By checking for popular landing pages and other factors, you can help refine your web presence and advertising campaigns (discussed later).
Mobile Website
It's no longer good enough to simple have a website; your website must also be accessible to and optimized for mobile devices. With more than 60% of all Google searches coming from mobile devices, it's important that your website works properly across all internet-enabled devices.
Responsive web design ensures your website stays mobile-friendly, no matter how visitors navigate to it. By having one responsive design, you don't need to worry about creating a mobile version for every device and screen size. Fast page speed represents another major factor in ensuring your website waits ready for mobile users. Avoiding flash, compressing images, minimizing CSS, and eliminating pop-ups ensure your site loads at a speed ideal for mobile users.
Advertising Audit
A huge problem for many businesses when considering traditional advertising methods is the difficulty of monitoring return on investment. You need a few indicators in place to determine which advertising campaigns actually work. Find out which campaigns create value and which waste money. Several methods and practices will help shore up your advertising and eliminate campaigns that simply don't work:
Tracking coupon codes/special offers: Encouraging your customers to give feedback on how they heard of you becomes much easier when you give them a special discount code or phrase. This makes customers more likely to report the advertisement that made them aware of your company. Using this information in aggregate can help you see which ad campaigns work best. Cutting down on advertisements (door hangers, direct mail postcards, bulletin board postings) that do not show significant coupon code use can help you prioritize which campaigns are most profitable.
A/B Testing: If you do not see the results you desire in your marketing campaign, try changing one of the variables of a marketing piece to see if you can improve the results.
Monitoring website traffic: A major problem that many smaller companies have is a lack of understanding of the role a website. Websites constitute a crucial component of most television and radio campaigns, helping to create a positive return on investment. Google Analytics makes it possible to monitor traffic spikes to your website. With Analytics, you can also test the performance of traffic resulting from certain radio or television advertisements. Another great idea? Use the previously mentioned coupon codes as a form on your website. If users fill in a contact form on your website as a result of the radio advertisement, you can attribute it to the correct advertising source.
Sending the right message: Most important in all of your advertising efforts, however, is making sure your message is appropriate for your audience. For example, it may seem like a great idea to use a direct mail service to target new homeowners in your area of business. However, if these home owners occupy newly built homes, a message you send them about replacing their old hot water heater likely won't gain traction. Similarly, if you're hunting for more commercial contracts, like apartment buildings, it's unwise to leave door hangers on every door, as tenants rarely have the final say in who provides plumbing services. Make sure your designs are clean, free of clutter/clip art, professionally designed, and show an obvious value to your target audience. Without all of these elements, your advertising campaigns will struggle to produce positive results.
Employees
Your employees are the bread and butter of your company; without them, the rest of these tips don't matter. It is important to take the time to ensure your current employees are up to date with the best practices in the plumbing industry. It's also important they are all proficient in identifying and fixing common problems such as:
Faucet Leaks
Water Heater Leaks
Slow Drainage
Damaged Plumbing Fixtures
Pipe Insulation
In addition to identifying these common problems, plumbers should be able to install the necessary parts to remedy these issues properly. An easy and modern way to ensure your contractors know exactly how to fix common plumbing issues could be creating short videos demonstrating how to install new fixtures and parts properly. These videos can then help anyone else in your company, becoming part of your training purposes and saving you time in the long run.
There is no better time than the present to conduct an audit of your plumbing company to ensure you are maximizing the time, money, and resources you have. Using our checklist can help you identify pain points in your business and discover how to effectively remedy them for long-term success.
---