How Mobile Technology Impacts the HVAC Service Industry
By My Service Depot on Tuesday, August 29, 2017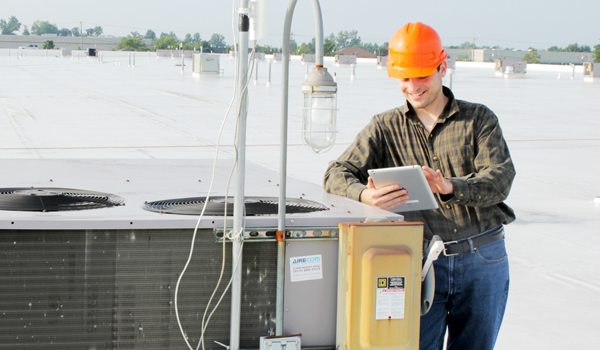 The need for heating, ventilation, and air conditioning services has always existed, but the way companies have provided for that need has drastically changed with recent technological advancements. The evolution of the mobile office, including smartphones, tablets, HVAC software, and HVAC mobile applications, can give companies a competitive edge that can greatly improve daily productivity and efficiency. Below you'll find a list of ways choosing the right mobile technology can positively impact an HVAC service company.
How Has Mobile Impacted HVAC Service Companies?
Instant Connection to Information
Faster HVAC Scheduling and Dispatch
Improved Client Communication
Better Fleet Management
Online Brand Visibility
Instant Access to Information Equates to Better HVAC Service
Getting work done correctly requires all members of your team to access information quickly. With the development of HVAC management programs, productivity apps, and technicians who can access digital records anywhere in the field from their mobile devices, HVAC contractor businesses can service customers more efficiently than ever. Information such as customer history, work estimates, drawings and images, technician schedules, and job site locations can be shared and utilized at any time with the advent of mobile connectivity, meaning your team can address needs faster, work independently, and avoid missing crucial pieces of information that normally lead to costly mistakes.
Streamline Dispatch and Scheduling With a Mobile HVAC App
A well-oiled scheduling and dispatch operation rests at the heart of every successful HVAC company. The instant connectivity brought about by mobile devices and field service apps can simplify this complicated aspect of business across your entire team. With an HVAC scheduling software solution, your office team can make instant schedule updates for technicians. Techs can then view those updates on their mobile devices, update work orders on the spot, collect customer signatures, and complete paperwork in the field without ever touching a sheet of paper. This streamlined approach to your HVAC operations can reduce operating expenses and vastly improve productivity and customer service.
Build Stronger Relationships With Improved Client Communication
The integration of mobile technology and HVAC service impacts the communication between field techs and your office staff, as well as the communication between your company and your customers. In its simplest form, mobile connectivity has allowed for technicians to call customers while out in the field to communicate arrival times or last minute changes. Technicians can even access customer contact information themselves with a mobile device, rather than disrupting the office team (who may have more important things to work on) by calling up and asking for this information. Empower technicians to answer customer questions confidently and accurately with easily accessible information. HVAC mobile applications also allow for the tracking of technician locations, helping your business provide accurate arrival windows to your customers.
Improved Fleet Management Capabilities
Managing and maintaining your HVAC company's fleet of vehicles can make a huge difference in keeping your business operating and making it to your appointments. With the evolution of mobile technology, even small HVAC businesses can monitor, track, and analyze individual fleet vehicles and/or the fleet as a whole. Save on maintenance and fuel costs through route evaluation and keep your vehicles in service longer with the assistance of different fleet management applications. Some HVAC management software applications can even allow businesses to track fleet inventory, ensuring your technicians arrive with the right equipment to get the job done.
Increased Online Visibility Through Mobile Web Usage
In a recent 2017 report published by BrightEdge, 57% of online traffic comes from smartphones and tablets, a percentage that has seen consistent growth in the past 5 years. What does this mean for HVAC companies? A web presence is more important than ever. An easy-to-navigate website represents a crucial component to growing leads and finding new business. The best mobile HVAC service websites feature easy-to-use contact forms, organized content that displays well on phones, and a phone number prominently displayed on every page.
As the use of smartphones and tablets become even more commonplace, the relationship between HVAC service companies and mobile technology will only continue to grow. Finding ways to capitalize on current and future mobile technologies will allow HVAC companies big and small to stay relevant. Request a free demo of Smart Service HVAC business software to experience firsthand how a mobile solution can have a positive impact on your HVAC service business.
---