Field Service Metrics and KPI for Measuring Success
By My Service Depot on Tuesday, March 28, 2017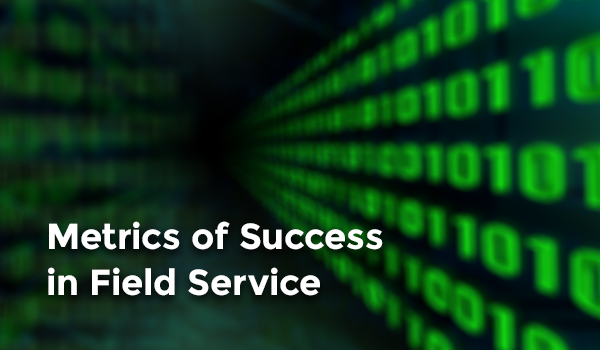 In any industry, key metrics help define the pathway to success, providing a snapshot of the success of your business. With many indicators to monitor, you must keep track of crucial figures, especially those based on customer satisfaction. In the field service industry, it's also prudent to know how well your techs perform when out at remote job sites. Because you cannot possibly watch and observe technicians all the time, you must monitor the metrics that speak to their effort. Monitoring the right numbers closely will ensure your customers remain happy and that work occurs with the proper diligence.
Not sure where to start or what numbers will give you the best information? Read on to learn more about nine crucial metrics relevant to any field service company.
Contract Leakage
First-Time Fix Rate
Productivity
Service-to-Cash Flow
Response Time
Total Service Cost
Ratio of Service Revenue to Total Revenue
Service Revenue Per Field Technician
Customer Satisfaction
Contract Leakage
One key indicator to monitor is contract leakage. When technicians are unaware of the length of the job or the specific duties proscribed, they often provide more service than the project outlines. This is known as contract leakage. Essentially, it occurs when a customer receives anything for free that could have been scheduled as a job in and of itself. Contract leakage causes revenue to drop and makes the number of jobs a tech completes fall. This, in turn, affects multiple percentage rates, including first-time fix rates.
To determine if your company has regular contract leakage, you should monitor work orders that come in. Does the amount billed match up to the work performed? Did the time the technician spent at the location match the tasks that were outlined on the work order? Do your technicians update work orders if a new task comes up at the job site? If the answer to any of these questions is "no," you have contract leakage. Moving to a field service software solution and a mobile field service app could help streamline the intake, execution, invoicing, and tracking of work orders, helping you prevent leakage that costs your company revenue.
First-Time Fix Rate
Another key performance indicator (KPI) to monitor in any field service company is the first-time fix rate. This important piece of data can help assess many aspects of a business. This metric states how many times a technician resolves a specific job on the first visit. Customer satisfaction will rise when needs are met on an initial visit. If multiple technicians go out to a job, this could suggest that one of the technicians may need specific training to help them make up for a blindspot in their expertise.
Productivity
Another metric that is often overlooked, but necessary to include in your data, is employee productivity. Within the field service industry, it is important to monitor schedules and productivity because the length of the job is crucial. Shorter average job lengths means more work gets finished each day. Try to ensure that customers get their needs met as soon as they arise and that the maximum possible revenue comes in each day.
Service-to-Cash Flow
A critical statistic to monitor and keep low, the "service-to-cash" gap refers to the time between the moment of service and the moment the final payment is received. Set a goal to keep this gap to a minimum. Invoices are an excellent way to track who is billed and for what service, but it is equally important to keep track of the date the actual payment is received. To prevent bottlenecks within your company, note the time services are completed, the time invoices are created, and the day payment is received. Often, technicians wait too long to create invoices, causing issues. Field service management software automates the billing process and helps isolate the source of bottlenecks when payment lag occurs. The service-to-cash flow performance indicator should be monitored regularly.
A Glimpse of Progress and Success
Every service field has unique, specialized indicators to monitor, but these five serve as a good starting point for most field service industries. Monitor metrics for your company to give you a snapshot of overall performance, anticipate needs, and solve problems before they form. When you know your key figures, you won't get caught off-guard by revenue fluctuations. Keep an eye on your key metrics, and you'll develop successful business practices and ultimately grow as a company.
Response Time
Your field service business' ability to quickly respond to new service calls is a big indicator of your efficiency and reach. By studying your response time, you may learn that your technicians out in the field are not being managed efficiently or you may be trying to service areas outside of your reach. Monitor your response times and make constant efforts to decrease it and you will see increases in revenue and improved customer satisfaction, one of the most important KPI for any field service company.
Total Service Cost
Anytime your business provides a service, it is critical that you understand the true cost of providing this service to your customers. Without knowing the true cost of providing your services, it is simply impossible to know what you must charge to maintain your expected profit margins. Once you have an efficient system in place for determining the total service cost of any and all services your company provides, you can look for ways to reduce this cost much more easily.
Service Revenue Ratios
Any field service business needs to pay close attention its service revenue ratio, often expressed as a ratio of income generated by services provided to total revenue. You may be shocked to realize that an alarming amount of your field service business revenue is coming from add on products as opposed to services. While any field service company should most certainly strive for add on sales, if the majority of your revenue isn't coming from provided services it may be time to re-think your business model.
Service Revenue per Field Technician
Any well-run field service company should have an understanding of how much service revenue each field tech provides. You will want to know the average revenue per field tech across your workforce, but also per each individual field tech. Understanding your service revenue on a per technician basis can help understand when its time to hire additional techs. It can also make it clear which of your field techs are underperforming and may need to be better managed.
Overall Customer Satisfaction
The last metric to keep in mind might be the most obvious, but it should not be forgotten when looking at your company analytics. Customer satisfaction rate is crucial to business growth and customer retention. Customers who are satisfied with your services are not only more likely to refer your business to someone else, but they will call you back as soon as a new need arises. Regular customers create lasting relationships with a company, which often keeps businesses open and thriving. One efficient way to monitor satisfaction is through a survey asking for customer input. Upon completion of a service/job, the customer follow-up is crucial. Ensure the job was completed to the customer's satisfaction and ask if they require anything else. Comments or reviews provide a great way to monitor your technician's acumen, and if customer needs are regularly satisfied.
---