HVAC Service Technician Tool List
By My Service Depot on Thursday, September 14, 2017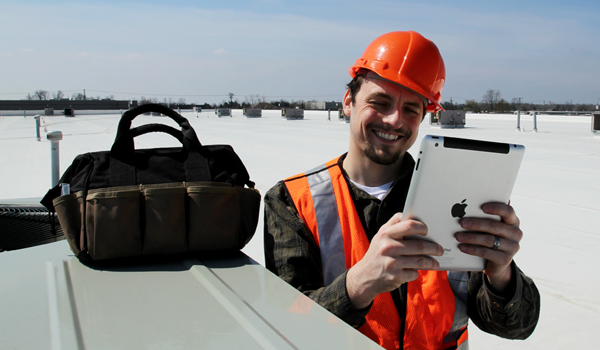 The most talented technician in the world can't do anything for your company unless he or she has the tools required to meet your customers' needs. Now, that doesn't mean that you should feel obligated to outfit your technicians with every last thing they might need to complete a job; if they don't even have a basic set of tools to start with, that's a good sign that they're not as committed to the craft as they might claim. That said, there are a few particularly expensive or specialized items that owners of HVAC businesses should provide for their employees in order to ensure that they remain completely prepared for whatever the day might throw at them.
Important Tools Needed By HVAC Technicians Out In The Field:
Reciprocating Saw Blades
Vacuum Pump
Mobile HVAC Software
Refrigerant Scale
Cordless Drill
Screwdrivers
Pipe Wrenches and Pliers
Tin Snips and Shears
Multi-Meter and Voltage Tester
Reciprocating Saw Blades
The ability of a reciprocating saw (also known by the brand name Sawzall) to cut through just about anything makes it a valuable and flexible tool that no HVAC technician should go without. Though your technician will likely purchase and maintain the saw itself, you'll want to ensure that they choose a model with quality construction that will continue to work well through years of daily use. You'll also want to provide the blades they'll use, as the cost of keeping them in stock pales in comparison the cost of the time lost when you try to perform a complicated task with a dull blade.
Vacuum Pump
When you put refrigerant into a line with leaks, you basically just throw good money after bad. At best, this represents a waste of time and materials; at worst, it could lead to a failure of your client's air conditioning system. The costly repairs it'll take to fix the problem and the disintegration of that client's trust in you will serve as a painful reminder of the importance of doing the job right the first time. That's why you should provide each of your technicians with a reliable vacuum pump. The pump's ability to suck moisture and air out of air conditioning lines can help them determine which lines have leaked before charging the system with refrigerant. The wide variety of models, however, can make it difficult to determine which pump suits the needs of your company and your technicians. This vacuum pump guide can help break down the differences between the models and give you the information you need to make a smart purchase.
Mobile HVAC Software
Though not a tool in the conventional sense, a comprehensive HVAC mobile software solution can count just as much for the success of your HVAC business as any of the items listed above. The quality of the work done by your technicians won't mean a thing if you haven't given them the tools they need to get to the job on time, provide quick and accurate estimates, or communicate effectively with your office/customers. You can get all that and much more with an HVAC software and mobile app solution that allows you to more efficiently manage every aspect of your HVAC business and that allows you to instantly provide your technicians with all the logistical information they need to provide your clients with top-of-the-line service. Schedules, contact information, equipment records, service histories and much more become available after a tap of the screen. Your technicians can focus on their work, which will leave you with the ability to focus on growing your business.
Refrigerant Scale
Those not familiar with the particulars of HVAC work might surprise themselves when they learn the precision of many of the tasks involved. Take, for example, the charging of an air conditioning system with refrigerant. If too little is provided, the system won't be able to effectively maintain the temperature of its assigned space. Too much, on the other hand, creates a high-pressure system within the cooling equipment that can put a life-shortening strain on the compressor and lead to constant and costly maintenance issues. A refrigerant scale helps to address this issue by measuring the weight of refrigerant as it's added to or removed from the unit's compressor, giving your technician the necessary information to put in exactly as much as it needs. That same capability helps your technician to identify if the system suffers from a leak, allowing them the opportunity to fix a small problem before it becomes a giant hassle. As with vacuum pumps, a plethora of refrigerant scales exist; studying this breakdown of three of the most popular refrigerant scale models can give you a better idea of which scale best suits the needs of your business.
Cordless Drill with 2 Batteries
A cordless drill makes an essential HVAC tool for its portability, power, and versatility. Equip your technicians with a drill of at least 18 volts and do not forget a set of bits, including Phillips, hex, hole saws, and arbors. Keep at least two batteries on hand to help ensure that your technician's drill can last the entire day without needing a charge.
Screwdrivers with Insulated Handles
Equip your HVAC technician with an arsenal of screwdrivers to prepare them for any HVAC situation. Your set should include a variety of Phillips, flat head, and hex screwdrivers in different sizes to accommodate the different screws and bolts used in HVAC systems. In many cases, a heavy-duty screw driver can serve multiple uses, including prying apart venting. Make sure to also find screwdrivers that have insulated handles, so as to prevent the risk of electrical shock.
Pipe Wrenches and Pliers
While more commonly associated with plumbing, a set of pipe wrenches can work on many HVAC systems involving natural gas line and connections to plumbing. For smaller connections and to better manipulate wiring, keep a set of pliers handy, including needle-nose, channel-lock, open-face, wire strippers, and linesman pliers. Finding pliers with insulated handles reduces the risk of electrical shock.
Tin Snips and Shears
In HVAC, you must own the tools necessary for manipulating sheet metal. Make sure that your HVAC techs equip themselves with all three types of tin snips, including straight aviators, lefts (reds), and rights (greens). Each type of tin snip allows for different positioning and cut direction for better precision. For longer, straight line cuts, a strong pair of steel shears with an insulated handle can help your tech get the job done.
Multi-Meter and Voltage Tester
Safety is incredibly important when your HVAC team works out on the field. Since HVAC systems are very much connected to electrical systems, it is imperative that your techs are equipped with electrical testers to verify the presence of live wires, measure voltage, measure resistance, and quickly conduct other electrical tests out in the field. Electrical mishaps not only endanger the safety of your tech, they can also lead to devastating damage to your customer.
Prepare Your HVAC Team for Success!
The wide variety of work that falls under the HVAC umbrella means that your technicians will need a great deal of support in order to ensure that they can handle any job that comes their way. Providing them with the above tools will go a long way towards doing just that. Curious about other steps you can take to secure the effectiveness of your technicians and the growth of your business? Request a free demo of Smart Service to see how a comprehensive HVAC software solution can position your team for success!
---