Grow Your Field Service Company's Revenue With These Simple Steps
By My Service Depot on Wednesday, March 22, 2017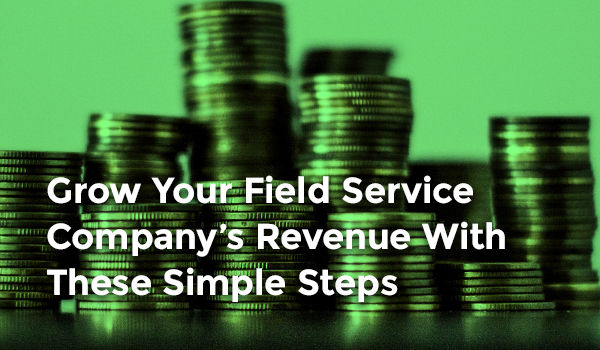 In business, there's always room for growth. Your field service company makes no exception. Seemingly small adjustments to your work approach can have a significant impact on your bottom line. If you hope to grow your field service company's revenue this year, consider the following tips and strategies.
Hire the Best
You have to hire the best to be the best. Hiring the right people forms the foundation for your business, especially in the service industry. You need to ensure that the people hired come equipped with technical knowledge while doing everything they can to represent your company's culture and dedication to your customers. The people you bring on board as field service workers become the face of your business and ultimately dictate whether or not a client will use your services again.
When hiring, keep in mind these 7 C's for finding the best employees: competency, capability, compatibility, commitment, character, culture, and compensation. Keeping these words in mind will help you make hiring decisions that fit your company. Sometimes the hiring process can drag on, but bear in mind that at the core you need to find the right person to compliment your company culture and work standards.
Invest in Your Team
While it's certainly true that you must hire the best, another important point to remember is that you have to treat your team like they're the best. With a skills gap crisis looming on the field service industry, how you treat your current employees will become more crucial than ever. In the coming five to ten years, 70% of service organizations may face a skills gap due to retired workers leaving the workforce.
Skilled workers leaving the industry for retirement means that business owners must create a new line of succession. One way to do this is to implement a mentoring program. A mentoring program ensures that the skills from the retiring workforce will not get lost in the transition. If a majority of your field service workers are approaching retirement age, now is the time to consider setting up a mentorship program.
For a mentorship program to succeed, you must communicate with your retiring workforce the importance of passing on their skills and expertise. Bring new employees on board with the intent of providing them shadowing opportunities to learn the business from experienced workers. Your seasoned employees will feel valued passing on their skills, your new workers will learn from your field service veterans, and your clients will feel a seamless transition in the face of a retiring workforce. Everyone wins!
Improve Company Communication
Poor communication is one of the biggest problems companies face. Luckily, it's also a fixable one. Miscommunication causes undue frustration internally, hurts the quality of service your customers receive, creates billing mistakes, and costs the company money.
First, identify areas of communication that plague your office. Are your field service workers always unsure about their routes and the work expected of them? If so, then you have a communication issue between office workers and field workers.
Are your workers unsure who to report to when an issue arises? If so, then you can work on improving your managerial communication.
Some potential ways to improve communication in your office and among your workers include providing an anonymous suggestion box, creating an open door policy with employees, and sending out monthly newsletters to keep employees informed of major company news. Working on improving your communication in the office will help boost productivity, potentially reduce turnover rates, and ultimately enhance your customer's experience.
Research Your Target Customers
Researching your customers will help all your departments focus on your customer base. If you haven't started researching your target audience, now makes a good time to do so.
Set up a simple email survey and send it either with your customers' bills or a couple of days after you've received payment. Some valuable questions you should ask include how customers heard about your services, how they feel about the work completed, would they refer a friend, and ways your business could improve.
These survey questions provide valuable information to your field service workers, administrative team, marketing team, and everyone else at your company. Take your client's suggestions and start making your business better serve your target audience.
Say Goodbye to Paper
Paperwork slows any company down. How often do you have to wait to print or scan important paperwork? Or worse, how often do you lose crucial documents altogether? Not only does paper waste money, it also wastes time when you have to look for misplaced documents.
Many field service companies opt to use field service software to replace paper. Not only does software replace the need for paper, it also helps with the billing and scheduling processes. Consider a solution that doubles as both field service scheduling software and field service dispatch software to get the best advantages and benefits from your investment. Help make your team more efficient and give them more time to work on expanding your business. Keeping customer records on software (compared to paper) can make important information more accessible to everyone on your team.
Start Growing Your Revenue Today
Whether your company could benefit from better hiring, a mentoring program, better communication, more targeted marketing, or a field service software solution, the sooner you address your business' needs, the sooner you can start making more revenue.
---