Better Advertise Your Field Service Company With Email Marketing
By My Service Depot on Wednesday, March 1, 2017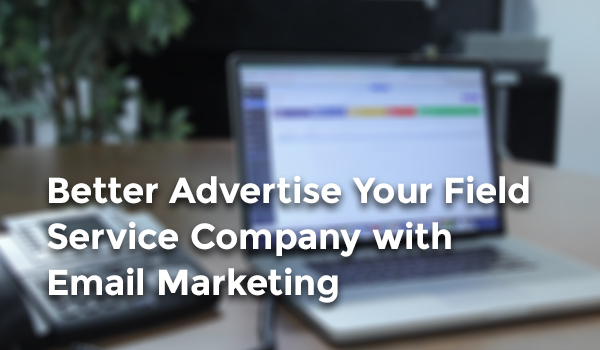 Field service businesses are always looking for new and innovative strategies to better market themselves. Your business may have tried direct mailers, advertising in a local newspaper, buying ad space in coupon magazines, creating radio ads, and other traditional forms of advertising to attract new customers. While many of these marketing channels can work effectively, sometimes each can consume a lot of time and effort—especially for a field service business.
These days, more and more successful field service companies utilize email marketing to reach new and existing customers in an efficient and effective way. As someone working in a field service company, you probably already have enough on your plate. It may seem like a daunting task to setup and manage email campaigns. However, with several email marketing programs readily available to help design, run, and monitor your campaigns, the process has gotten much, much easier. Commonly used programs include MailChimp and Constant Contact. In order to save on time and resources, look for a program that allows you to easily design emails, add your existing and new customers, and see reports for the emails you send.
How Field Service Companies Can Use Email Marketing Campaigns
If you keep thorough customer records, you can utilize that information to send personalized emails to your existing customers. For many field service industries including plumbing, HVAC, and appliance repair, your customers may only seek you out a handful of times a year. Effective email marketing campaigns could help your company stay higher on your customer's radar than your competitors. You can send friendly maintenance reminders or email customers about seasonal promotions to encourage repeat business. If your business utilizes a field service management software, you can make customer email lists right away using your existing data and send multiple emails at once, saving you even more time. Make sure that email address becomes a datapoint you collect from every customer and that you enter it safely into your customer database.
If your field service company has a website, you could also use an email automation program to make the most of online visitors. Streamline your email marketing process with personalized emails that trigger based on user engagement signals, such as clicks on certain pages, email opens, and purchase history. This will more than likely take a bit of technical work to integrate with your website, but if used properly it could become a powerful and effective tool for getting more leads.
Creating Effective Emails
Harnessing the power of email marketing can change the trajectory of any field service business when executed correctly. In creating emails to send to your customers, consider the following tips.
Be Purposeful with the Subject Line
Nail that subject line, as it is the first thing a customer sees in any email. Aim for a casual, personal, and concise opening line. 60-65 characters serves as an agreed-upon "sweet spot" for subject lines. With many email programs, you can pull a customer's first name into the subject line for an added personal touch.
Send Promotions
Letting your customers know about a promotion marks the first step to making that promotion successful. Consider running promotions for seasonal work and send a blast to your customers to encourage them to take advantage. You can also consider automatically sending out birthday coupons to your existing customers as a special surprise!
Make Emails Personal
Maintain a personal and conversational tone in your emails. Personalizing your email campaigns increases your open and click-through rates.
Send A Welcome Email
Welcoming new customers to your company email list helps build a strong inter-company relationship from the beginning. Feature a warm introductory message thanking new customers for their business.
Add A Subscribe Button to Your Website
A "Subscribe" button or section on your website's homepage can be important for potential new customers who might be attracted to promotions or exclusive discounts.
Utilize Data After Emails Are Sent
With many email marketing programs, you will get statistics on your success after emails go out. The most common and most important statistics include email opens and email click throughs. Over time, you could see if a certain day of the week works better for your customers than any other. Tuesday is oftentimes considered the most popular day, but the optimum spot could be different for your business. Try sending out your emails on different days and and at different times to see if these stats change for better or worse. You can also try sending emails more than once a week to see if they get opened more the first time or second time.
As mentioned, time of day could also be tinkered with to find out what works best for your customers. Several studies concluded that the best time to send emails is between 9 AM and 11 AM. You might also find success sending out business-related emails later in the day, as people check out of work mode and start looking for distractions. 53% of emails received during a workday get opened between 9 AM and 5 PM.
Add Call to Action Phrases
Make sure you make it clear in your emails what you want the recipient to do after reading. Check out these great field service repair company email call-to-action phrases: "Schedule your appointment today," "Subscribe here," "Refer a friend." Create a sense of urgency by limiting supply, and demand will encourage readers to act sooner.
Take Control by Doing it Yourself
Email marketing can become a valuable tool in growing customer relationships and sales for your service company. If you have already taken your customer database digital with field service software, consider taking your marketing digital as well. Use the two tools hand-in-hand to promote your field service business more effectively and efficiently.
---