Commissions
By Ben Yackshaw on Monday, January 5, 2015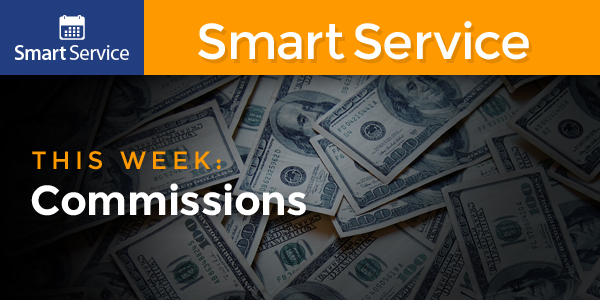 Does your company need to track commissions for your sales reps and technicians in the field? If you're looking to run reports to find out how much commission has been paid (or how many of your jobs have earned commission), Smart Service is the tool for you. Smart Service can track commission based on:
A percent of the each job's subtotal;
A flat rate for each job;
Labor only;
Certain products sold (add-ons or services);
Multiple employees on a single job;
Different rates for sales vs. production;
Jobs over a minimum amount.
Commissions in Smart Service are set up inside the employee profile. This allows you to add unique rates to each commission type. Once everything is set up, you can add commissions to jobs on an as-needed basis.
Tracking commissions in Smart Service gives you the ability to see which jobs and employees earned commission. You can also track employee numbers for new jobs and products/services sold. With Smart Service, comparing revenue per employee versus their commission earned is easy.
---