Managing Remote Window Cleaners Better
By My Service Depot on Tuesday, January 3, 2017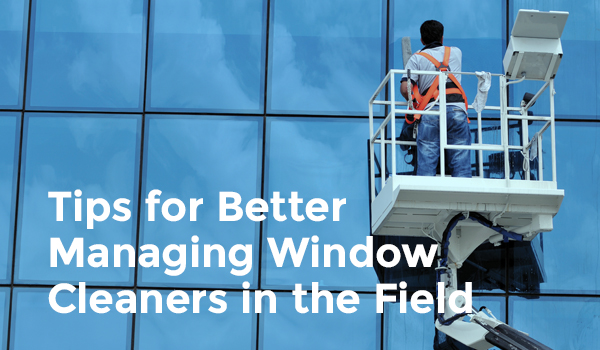 When you send your window cleaning crews out for the day, how are you making sure that they have everything they need to be productive and effective? Because of the remote nature of field service work, managing your employees while they are out of the office can be difficult. You can't leave success here to chance. Closely managing your field workers forces them to perform better, cutting down on wasted time, wasted energy, and saving you money in the long run. Here we outline six tricks to better manage your window cleaning team with field management software.
Make Sure Workers are Prepared
Your window cleaners cannot find success in the field if they are not equipped with the right information, the right equipment, and the right skills. Prepare your cleaners by making sure that their schedules are ready before they head out, that their vehicle is well stocked with enough supplies and equipment to complete all their jobs, that their invoices and work order paperwork are organized, and that you are giving them opportunities for continual learning. When a window cleaner is prepared and properly equipped for the day, you avoid productivity slowdowns and wasted time. No one likes to see workers waste trips to the office to pick up the basics they need.
Keep Open Communication with Cleaners
The most common complaint among remote workers is the lack of communication between field worker and supervisors. This can be avoided with clear daily schedules, helpful and accessible client notes, crew meetings, briefings, and clear protocols put in place for communication. However, not all of these things are simple to implement and manage every day, which is where window cleaning software solutions and mobile applications come in handy. Integrated software solutions allow you to automate and simplify the communication of this critical information. Moving as much as you can to a mobile software application that your window cleaners can utilize on the road can give them immediate access to the information they need to be self-sufficient and get the job done. Good software creates less room for miscommunication and frees up more time in the field!
Build a Trusting Relationship with Your Window Cleaning Crew
Working remotely and managing remote workers requires a lot of mutual trust. Hard working employees with good work ethic want your trust. In order to build that, you need to have a good rapport and relationship with your cleaners. Get to know them and what is important to them. Do they have a family? What are their interests? Where are they from? Build a relationship with your cleaners and show them that you care about them as people. This can go a long way in building mutual trust.
Track Your Window Cleaning Crews' Locations
How many times have you gotten a call from one of your clients complaining about a window cleaner arriving late? Imagine if you could tell them exactly where their cleaner is at the moment they call. You could reassure them—with confidence—that service is on the way. Track your cleaners in the field with iFleet and you can reassure them about your team's imminent arrival. Pride yourself on great customer service. Window cleaning software solutions that provide GPS tracking make life easy. Track your service vehicles to keep yourself reassured, keep your employees honest, and provide relief in the case of a vehicle breakdown or emergency.
Optimize Service Routes
If your window cleaners are constantly driving back and forth across town, you are missing out on an opportunity to save costs, cut wasted time, and increase profits. Effective and efficient route scheduling can not only save time, but also save on transportation costs and mileage. In planning and scheduling your window cleaning jobs, try to be tactical in how you group them or send them. If your territory is large enough, breaking it up into regions can keep your crews from traveling over long distances. If you have a job that is pretty far away, see if you cannot schedule something around the halfway point so as to increase the return on all of that travel.
Join Crews Out in the Field Every Now and Then
Sometimes it benefits both you and your crews to dust off your squeegee and hop on a route. This allows you to observe your crews and their interactions with customers, build your own relationship with both your cleaners and customers, provide immediate feedback to your employees and experience the day-to-day of your business first hand from a different perspective. Maybe you find out that a process you put in place for on-site work is inefficient, despite it sounding great on paper when you originally came up with it. Jumping in on the labor side of things can also go a long way in developing respect from your employees. Long term, this results in better work ethic and loyalty.
Want to see for yourself how field service management software can help your team of window cleaners? Smart Service offers a free demo so you can see how this field service scheduling and dispatching software can fit your window cleaning business' needs.
---