The Benefits of Giving Back to the Community for Field Service Companies
By My Service Depot on Wednesday, December 27, 2017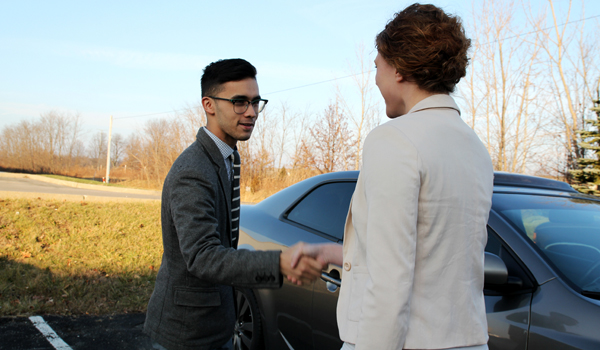 Field service companies that give back to the community enjoy many benefits for their philanthropic efforts. Those advantages include improvements in team morale, the generation of new business, and more. Depending on the method in which a field service company gives back, those benefits yield varied results for the company and its employees. Listed below you'll find some of the most significant benefits of giving back to the community.
Biggest Benefits of Giving Back for Field Service Companies
Improving Team Morale
Providing a Sense of Unity and Pride
Developing a Positive Reputation
Increasing Company Visibility
Creating Networking Opportunities
Improving the Local Community
Building Respect for Company Leadership
Reinforcing Company Values
Having Fun
Improving Team Morale by Giving Back
Giving back to the community gives field service companies a chance to improve team morale and provides a sense of unity and pride throughout the organization. By taking time to do something that benefits the community collectively, employees get to feel good about the positive impact they make while also getting to know their co-workers better outside of a work context. Participating in a holiday food drive at your local soup kitchen or volunteering to work with an organization like Habitat for Humanity allows your employees to see each other in a new, positive environment. This improved morale will boost the collective output of your team in the long-run.
Developing a Positive Reputation and Increasing Visibility in the Community
When your company donates to a charitable cause or volunteers at a local event, the reputation and visibility of your organization improves throughout the community. If you work in plumbing, HVAC, or electrical services, volunteering to help rebuild a school, church, or home in the neighborhood can also allow you to showcase your skills to prospective customers. Volunteering your talents helps you to build a reputation for generosity and for your skills in your trade. This improved status and visibility will lead to new business when other participants in the volunteer effort need your services.
Creating Networking Opportunities
Many times, when your company gives back, networking opportunities present themselves as part of the event or project. Whether you're helping out at the local soup kitchen or volunteering at your industry trade show, new contacts have a way of presenting themselves when you least expect it! These networking opportunities include meeting field service companies from other industries who could recommend your services down the road. You also get a chance to network directly with potential customers. Additionally, the philanthropic leaders you work with on your charitable project will act as advocates for your company in the future. These new connections could lead to valuable work down the line.
Improving the Local Community
There is overwhelming value in working as a team to improve the local community. Whether this includes sponsoring a youth sports team, boosting a fine arts initiative, or building a home, supporting the community in which your employees live also improves their quality of life. If you help rebuild a church or raise funds for the Girl Scouts, you may very well directly impact your employees or their families with your efforts. One way or another, the work you do in the community will come back to reward those who work for you.
Reinforce Company Values
Taking time out of your busy day to give back to the community serves as a way to demonstrate that your collective mission as a company amounts to more than just making money. This philanthropic spirit helps build respect for company leaders, showing employees that the boss cares about the community. Furthermore, company values—things like going the extra mile, helping your neighbor, and teamwork—all go on display when you give back to the community.
Giving Back is Fun
Offering your skills as a plumber, electrician, HVAC contractor, or landscaper to improve the community can be a lot of fun. And when fun doubles as productivity, everyone wins. You get to step outside of your daily responsibilities (alongside your co-workers) when you decide to give back. That experience can go a long way.
For information on Smart Service, the industry-leading field service software for scheduling and customer management, simply click here!
---