5 Benefits of Fire Protection Software
By My Service Depot on Monday, January 9, 2017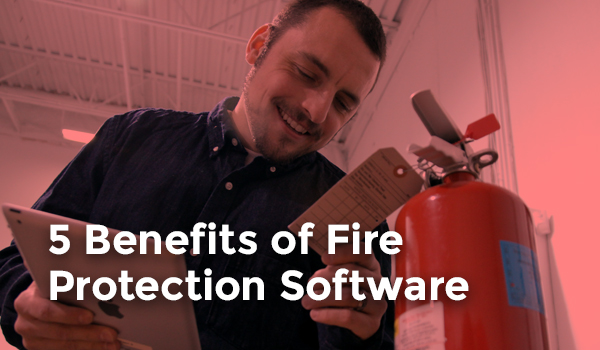 Companies and residences alike trust their fire protection service provider to ensure their safety. Clients rely on providers to show up for scheduled maintenance and emergency calls to keep their customers and property safe. Fire protection companies around the country have increased their ROI and overall success by implementing fire protection software. How exactly can fire protection software help your business? We've outlined five of the biggest benefits our clients see from using field service software.
Office and Field Coordination
No matter the industry, field service software can improve the coordination between office staff and field staff. When managing employees in the field, it can be hard to ensure a streamlined communication process. This software keeps the field service cycle components in one place, including work orders, equipment information, labor schedules/rates, returns, contracts, and more. Keep all of your information in one fire protection software program, and anytime a pertinent change is logged by an office employee, field workers will be able to access the information and vice versa. With field management software, paper documentation and long games of phone tag become relics of the past.
Responsiveness
Improved coordination between office and field workers can improve the overall workflow of your company. The nature of any field service company involves constant change, making static work plans and schedules hard to stick to. If a customer cancels their appointment last minute or if traffic causes a delay, fire protection software allows field service workers to adapt quickly. Office staff can alert customers or workers to changes in the schedule, all through a single database. Field management software allows a real-time approach, something that a manual system simply cannot duplicate with the same efficiency.
Automation
In addition to improved responsiveness, the office and field coordination provided by field service software can automate all aspects of your fire protection company. The nature of the field service industry lends itself to constant changes that affect multiple parts of the company. Because of this, traditional methods of managing field workers can become frustrating and confusing. Additionally, it can cost money and time to work through common issues frequently. Fire protection software such as Smart Service is designed to help automate cost management, invoices, scheduling, dispatching, and more.
If a field worker needs to access warranty or historical customer data on the job, they can look it up in their app. No longer do they need to call the office and wait for someone else to reference the desired information. This software can also help coordinate a larger project that might require the work of multiple technicians on different trips.
Resource Optimization
Efficiently scheduling appointments and work orders can be one of the most difficult aspects of managing a fire protection agency. With field workers out of the office most of the day, a last-minute change of schedule can throw a wrench into the works. Fire protection software such as iFleet can optimize your company's resources to ensure you use time and money in an economically conservative manner. iFleet and similar products allow field workers to clock in from their devices and view their daily schedules, all without having to drive to the office in the morning. Right off the bat, this fire protection software saves your company time. Additionally, field software programs can help schedule optimized routes to ensure your workers are not spending unnecessary time or gas traveling back and forth across town. In short, this all adds up to field employees accomplishing more work in the same (or less) time.
For office employees, a software program such as iFleet ensures work orders get assigned to the best worker. Whether their decision is based on skill sets, certifications, locational proximity, or overtime status, office staff will be able to make the right call. All of the pertinent information appears in one place, allowing your company to schedule the appointment for the best available employee.
Accuracy
Field management software allows fire protection companies to consolidate field and office activity into one tool, which in turn, promotes greater accuracy in cost analysis, data refinement, and decision making. From tracking parts and inventory to managing invoices and billing, getting a holistic view of all relevant company data with field service management software improves your company performance.
Fire protection revolves around the ability to go mobile and respond to work orders and requests as needed. Streamlining your scheduling, billing, inventory processing, and coordination can improve your company's efficiency and cost management. If you are interested in fire protection software from Smart Service, request a free demo today.
---