7 HVAC Mobile Apps To Increase Your Business' Productivity
By My Service Depot on Thursday, December 15, 2016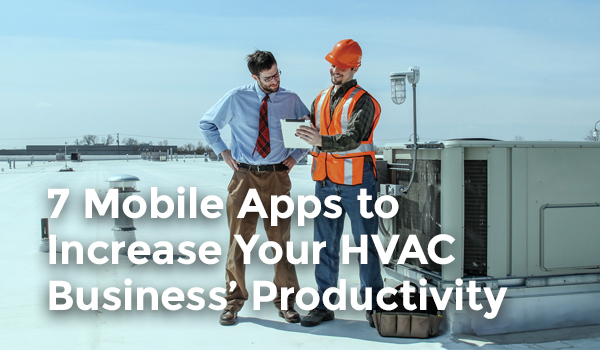 We've all been there. You just upgraded to a brand new "smart phone," but it's acting like a dumb phone. Where is the integration? Where is the convenience? Where is the user friendly interface? As an HVAC business owner, time is your most valuable asset, and you simply cannot afford to have a phone unless it is a truly "smart" phone. More and more businesses owners these days run their businesses from phones. Whether it's handling calls, managing contacts, keeping your calendar, scheduling employees, or anything else, today's fast-paced world demands that you be able to tackle tasks on the go. That's why we have compiled a list of 7 must have mobile apps to transform your phone into the intelligent mobile powerhouse that every HVAC business owner needs.
QuickBooks – The one and only. QuickBooks, the premier accounting software on the market, is now available as a mobile app for your handheld devices. This accounting software allows you to track nearly any financial metric or statement imaginable. As a bonus, Smart Service's HVAC business software integrates directly with QuickBooks to revolutionize the way your company does business. Don't settle for a smart phone, get yourself a smart business.
Addappt – Gone are the days of lost contacts, outdated contact information, and the struggle to connect with contacts. With Addappt, your business associates can update their contact information in your address book directly (provided they are also an Addappt user).
Slack – The premier instant messaging platform, slack was last seen taking the business world by storm. Slack allows you to organize your team's communications into public or private channels, as well as direct messages. Slack also makes sharing images, files, PDF's, and anything else a breeze. According to a recent company survey, Slack users held 25.1% fewer meetings and saw 48.6% fewer internal emails after installing and using the app, leading to an overall 32% increase in productivity.
RescueTime – Social media, games, and video streaming can spell the death of productivity for less disciplined employees. RescueTime solves that issue. This app tracks time spent in applications and on websites, and sends detailed reports based on user activity. These reports can help you identify wasted time throughout your day, allowing you to become a more productive business owner in the long run. The premium version of RescueTime also comes with the ability to block distracting websites during certain hours of the day to keep you on task.
Evernote – The premier note-taking app. Never again will you have to worry about attempting to access notes taken on your desktop from your mobile phone, or vice versa. Sync your notes automatically across multiple devices with Evernote. This app comes with a number of different packages to meet your specific needs, including a business plan that comes with additional team and administrative features.
Dropbox – We'll make it simple, if you aren't backing up your data and files on the cloud, you are asking for trouble. What happens when you drop that phone in a puddle and it dies on you? Or when your hard drive fails? Do you lose weeks, months, even years of important documents and files? Not with Dropbox! Backup all of your important data and documents on the cloud for safekeeping, and give yourself the ability to access them from any device you wish.
iFleet – Last, but most certainly not least, it's iFleet. From the developers of Smart Service, the premier HVAC business software, comes the best HVAC business mobile app on the market. iFleet equips your technicians with access to schedules, contact information, equipment records, service histories, company forms, and so much more. This app is the key to unlocking HVAC business efficiency outside of the office. When partnered with Smart Service and Routzy, there is nothing that can stop you.
So there you have it, seven apps that can completely transform the way that you do business from your phone. At Smart Service, we aim to educate our customers in all aspects of managing their business, whether that be through HVAC business software, smartphone mobile apps, sales techniques, or anything else. Be sure to check back regularly for new articles that can help you take your HVAC business to the next level!
If you are looking for an HVAC business software that can completely revolutionize the way your company does business, be sure to schedule a free demo of Smart Service today! You can increase profits and efficiency more with Smart Service than with any other HVAC software on the market.
---