5 Tips For Saving Money On Pest Control Fleets
By My Service Depot on Thursday, January 19, 2017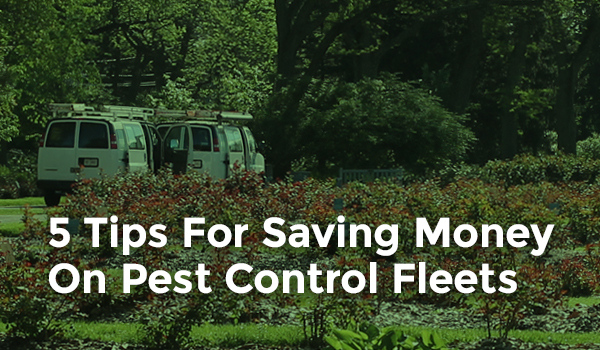 Efforts to reduce the costs of operating a fleet of vehicles can create major headaches for pest management business owners. We've come a long way since 2011 when gas prices hit an average of $4 per gallon, but cutting costs on fuel, vehicle maintenance, and employee expenses can still do a lot to keep your business profitable. Check out Smart Service's tips for reducing the cost of your fleet.
Regular Maintenance
As budgets tighten, pest management professionals sometimes make the mistake of putting off essential fleet maintenance tasks. Still, complying with manufacturer recommendations regarding oil changes, tire rotations, air filters, and fuel filters for your fleet's vehicles saves money in the long run. Closely monitoring vehicle mileage and addressing appropriate maintenance schedules can prolong the life of your vans and trucks to reduce the need for newer replacement vehicles.
Build a Relationship with a Good Mechanic
When your truck does face the odd (but inevitable) mechanical problem, you'll want a good mechanic on your side. Approach local shops that do fleet maintenance and compare pricing structures. Is your fleet big enough to justify hiring a mechanic to do in-house repairs? Do you have the space in-house to do easy maintenance work such as oil changes and tire rotations? Would hiring a general laborer for those tasks and contracting out more difficult jobs to a local shop be worth your time? Consider these questions carefully.
Advertise on Vehicles
If your fleet does not use the available real estate on the side of your work vans or trucks to advertise, you're missing out on a great opportunity. Most technicians spend their day outside of your headquarters, where they could be driving around mobile billboards advertising your business. Costs for vehicle art depends on the complexity of your logo and message. However, this up front cost pales in comparison to the benefits. This marks an easily justified expense.
Driver Behavior Modification
Going off-route to stop at shopping centers or fast food restaurants, letting the work van idle between stops, aggressive driving (which makes your business memorable for all the wrong reasons), and other undesirable behaviors all lead to decreased fuel efficiency for your fleet. A good way to promote change is to compare mileage on vehicles against the amount of fuel purchased for each vehicle. Discrepancies make it easier to identify technicians with driving habits that need improvement.
Optimize Routes
In the age of advanced digital communications, using a traditional radio system for dispatching makes little sense. Using a dispatching software for pest control (such as Smart Service) can help decrease wasted drive time between clients. Software like Smart Service sends jobs straight to employees. This keeps workers in the field, preventing them from returning to the office to collect additional work orders. Also, if you are looking to monitor your drivers to help modify their behavior, Smart Service's workforce tracking features can help you ensure that your payroll dollars are well-spent. Don't let employees waste time on the clock. Field service management software can make a huge difference in the way employees handle your business.
---