5 Reasons Your Future Window Washing Customers Won't Hire You
By My Service Depot on Friday, December 16, 2016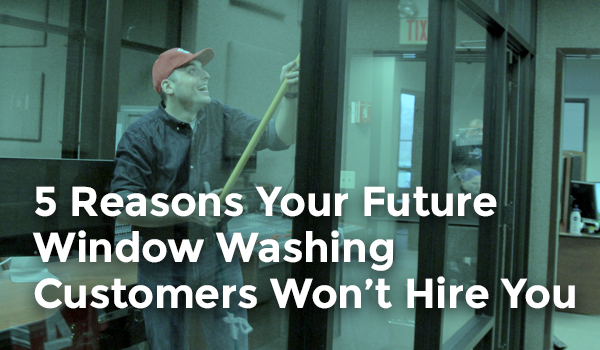 Some fundamental, preventable problems facing window washing business owners keep them from winning bids on projects. If you find yourself scratching your head at the end of the day wondering why your window cleaning scheduling software isn't completely full of newly awarded jobs, you might want to consider these potential mistakes:
Customers don't know and will never find out that you exist.
Experts suggest that 85% of consumers use the internet to find local businesses. This makes maintaining an online presence for your business an absolute imperative. Word of mouth will always remain valuable and relevant, but as long as the internet continues to dominate our society, you need an internet presence.
Your pricing is weird.
Your customers want to save money on window washing. Everyone shops around. Consider this when it comes time to submit a bid on a contract. Make sure your price isn't too high relative to the competition. By the same token, make sure your price isn't too low. Experiment with your rates until you find prices that give you the most profit. Many experts believe that you should aim to win 80-85% of jobs that you bid on. If you're winning 100% of your bids, consider charging more.
Your customer service is bad.
Working on residential accounts means interacting with people. If you aren't a morning person, consider pushing appointments until later in the day. It's important to be friendly and genuine to your customers (or their tenants). Greeting them with a friendly smile can go a long way in helping keep your customers happy. Train your employees on how to listen to customer concerns. While you might personally deliver quality customer service, you need to make sure your employees do the same. They too reflect your company.
Your branding is bad.
The importance of appearance in a customer-facing business can never be overstated. Who would you personally prefer show up to work on your house? A guy in a rusty pickup truck, dressed in ratty overalls? Or a clean cut, well-dressed professional who pulls up in a late model cargo van with a logo professionally installed? Sometimes pulling up in a shirt with your brand on it does enough to separate you from your competition. In addition, logos displayed on your person and on your work vehicles equate to free advertising as you drive from job to job.
You're unorganized.
Creating systems to make sure that you and your employees get to job sites on time, charge the right amount, and take the most efficient routes are extremely important if you want to remain profitable. Fortunately, we can help with this. Use QuickBooks to organize your business's finances, and you're already one step ahead of the game. Add window cleaning software to your list of tools to optimize your routes, improve scheduling for your technicians, track employee progress, and aid in dispatching. Help organize your business better.
---