Five Books to Read to Shape up your Electrical Contracting Business
By My Service Depot on Tuesday, December 20, 2016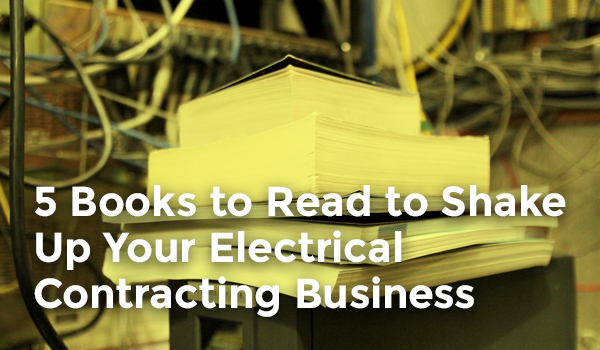 Even as an electrician software solutions provider, we don't dare underestimate the power of a well-written physical book. For business owners, especially in the contracting and service worlds, it's easy to get bogged down in day to day minutia. Paperwork, scheduling, figuring out payroll… these all take time away from what really matters: making your business profitable. Load some of these incredible books into your tablet or phone next to iFleet. Let us handle your electrician scheduling software while you take some time to improve your business fundamentals. Here are our top 5 suggestions:
How to Win Friends and Influence People – Dale Carnegie
Any list of books for business owners that doesn't feature this classic is sadly misguided. How to Win Friends and Influence People has earned a reputation as a must-read for almost everyone, no matter what stage of business they are in. First released in 1936, Carnegie's book is one of the first self-help books ever published. Several chapters speak directly to how people should handle themselves in order to increase their earning power, improve sales, and win new clients. Additionally, the book teems with all manner of other helpful advice for dealing with co-workers and employees.
The E-Myth Revisited: Why Most Small Businesses Don't Work and What to Do About It – Michael Gerber
In his 1985 book, Michael Gerber looks at the commonly held belief that most businesses are started by entrepreneurs (hence the title, in which "E-Myth" is short for, "Entrepreneur Myth"). Gerber argues that this thought is simply fiction. The majority of businesses are started by "technicians," people who are experts in the hands-on work of an organization. There is quite a lot of discussion on the relevance of this book in the age of the internet. In The E-Myth Revisited, Gerber attempts to dispel some of the commonly held beliefs about starting and running a business.
Don't Sweat the Small Stuff… And It's All Small Stuff – Richard Carlson
Many business owners strive for perfection. Winning 100% of all projects bid on, coming in below cost every time, and under-promising and over-delivering are all admirable goals. However, there comes a point when perfectionism can drive you crazy. Carlson recommends using the small challenges in our lives and businesses as little lessons to each of us. Stressing a gradual self-improvement model, he recommends softening your most stubborn positions and trusting your intuition to lead to less stress in your daily life.
How Much Should I Charge? – Ellen Rohr
Ellen Rohr is a small business expert who specializes in the service industry. Originally a partner in a plumbing company, she learned the ropes of the industry after graduating with a business degree. In How Much Should I Charge? Rohr explains some of the mistakes business owners make when they decide the pricing for the services that they provide. The advice she offers cuts across specific contracting areas and gets directly into how much your services are worth to your customers. By uncomplicating your business, you can focus on driving revenues higher.
Think Big, Act Bigger: The Rewards of Being Relentless – Jeffrey Hayzlett
Jeffrey Hayzlett is an industry veteran who happily sprinkles loads of personal experiences among the advice in this book. His no-nonsense writing style leaves plenty of room for humor, and inspires readers, motivating them to continue pushing forward. His mantra says it best, "The most dangerous move in business is the failure to make a move." While this book isn't necessarily geared towards electrical services specifically, it will give you quite a few things to think about.
---