5 Ways to Make the Most of Your Field Service Software
On June 21st, 2017 by
Field service software is an investment you make in your company, so you should make sure you get the most out of the experience. Consider ROI when weighing the costs and benefits of integrating your company with field service software. When you fail to use the software's full capabilities, you fail to maximize your potential ROI. Your software should help with all aspects of your business, from scheduling and dispatching technicians to invoicing and taking payments in the field. If you use your software to its fullest potential, it could even help you improve relationships with your customers by streamlining your business. If you utilize every feature of the best field service software, you maximize your ROI and potential gains from your investment. To make sure your software operates as efficiently as possible, make sure it has these features and that you use their full capabilities.
Scheduling, Dispatching, and Workforce Tracking
The three most attractive features of field service software for many business owners are scheduling, dispatching, and workforce tracking. Traditional dispatching systems tend towards inefficiency, with technicians experiencing more down time than needed between projects and wasting time by checking in with company dispatchers between jobs. With field service software, you can avoid technician downtime by dispatching jobs digitally—before your team's shifts even begin. Cutting down on the amount of time it takes for each technician to physically report to the office to pick up their schedules can jump start productivity. Who knows? You might even create enough time to work in one more work order every day.
Additionally, tracking your workforce provides an excellent way to make sure that they do not run personal errands on company time. With GPS tracking and smart navigation, your technicians automatically get the best route to the next project they have for the day. When you see your trucks at unrelated locations like retail shopping plazas, that's when you can have a conversation with your technicians about the expectations of the company.
Sharing Company Announcements
Between vacation time, sick days, and the regular business of the work week, it is difficult for larger field service companies to get all of their employees on the same page the old fashioned way (by calling a meeting or posting an announcement in the company's office). Field service software allows you to make company announcements to all of your technicians in the field. This means that you can keep them up to speed on things happening at headquarters. This feature works for many different announcements. For example, let's say that a field technician needs to take their FMLA leave for a family emergency. An emergency like this leaves little time to prepare. Making your whole company aware of the tech's absence and encouraging them to pick up overtime to compensate for the lost hours becomes simple with a company-wide notification system.
Invoicing and Inventory
Tracking inventory across a fleet of trucks and storage spaces becomes difficult without buy-in from technicians. The Smart Service multi-truck inventory module can help. When your company enables your field service technicians to update the inventory in their truck and inventory in your warehouse as part of their regular workflow, it reduces the hassle for everyone involved.
Track Parts Usage
Good technicians tend to stay booked. Field service software makes your routing and dispatching more effective, allowing technicians to get to more jobs with ease. However, changing bad habits when it comes to tracking part usage on jobs is a little trickier. By linking parts use on each work order to your live inventory database, you can eliminate the need for technicians to track parts in their trucks the old fashioned way. When technicians add parts to work orders (for example, an HVAC technician using a compressor and gas valve to repair an AC unit), these actions sync to your parts database to show those items removed from their truck inventory. Simply filling out work orders with field service software can help maintain accurate inventory records, cutting down on overhead.
Know When to Reorder Parts
As an owner, you have to know when to reorder parts, one of the trickiest things about running a field service business. With inventory tracking as part of your field service software, reordering the parts you need when you're running low becomes much easier. The Smart Service inventory module allows you to monitor parts usage. When your reserves of parts start to get too low, the software allows you to create a purchase order. When the parts arrive, you can easily assign them to the warehouse or service vehicle most in need.
Integration with Other Field Service Software
Many field service software companies don't offer all the bells and whistles when it comes to advanced features, requiring you to use multiple platforms to complete different functions. Good software allows for seamless integration. For example, Smart Service field service software provides the ability to integrate your base software with dispatching software, QuickBooks, and field sales software.
More than 3.7 million small businesses use QuickBooks to manage their accounting. A field service software that integrates with QuickBooks represents a crucial element of efficiency. If you can't seamlessly schedule jobs, create invoices, and put data into your system, how much is your field service software really doing for you? Integrating field service software and QuickBooks gives you the ability to import existing customer data, pair job scheduling with invoicing, and collect payment in the field.
The ability to integrate dispatching jobs with scheduling and QuickBooks constitutes another important component of a complete field service software suite. With field service dispatching software, you simply need to find an open technician, add the customer's name, and watch as the software pulls in the rest. The dispatching software will also find the best time for the job, taking the previously scheduled route of the technician into consideration. With this feature integrated into the core of your field service software, technicians will have full control. They'll collect payments in the field, access their schedules remotely, and complete work orders. Office employees will enjoy real-time communication with technicians in the field, eliminating paper requests and schedules as well as the need to play phone tag with field workers.
Field service software can also help your sales team in the field. By using field sales software, your sales team can improve the conversion rate for closing leads, improve response time for consultation requests, optimize sales routes, and more. These features will help you get the most from the software you invest in.
Improve Customer Relationships
While this software was originally created to help with field service management, if you use it to its fullest extent, it can significantly impact your business to where it improves customer relationships. A variety of different assets in good software can help your company improve customer relationships and further grow your business.
Scheduling Conflicts
When employees show up late to the job, get double booked, or cancel an appointment, it reflects poorly on the company, even when the blame doesn't rest with the tech. These types of mishaps can negatively impact a customer's perception of the technician and company, often leading them to seek service elsewhere. Stay competitive by ensuring your team stays on their A-game when scheduling appointments. Field service scheduling software can help with this.
As previously mentioned, field service software can help when scheduling workers so their routes remain optimized for location and work type. The scheduling feature of field management software allows office employees to get real-time information about the location of field workers, how much time remains on a job, and where the next stop awaits. This gives anyone who schedules customer appointments the ability to work around the routes and current work scheduled. With improved scheduling efficiency, you'll no longer accidentally double-book a technician for a job, give work to a busy technician, or schedule an appointment far outside a tech's route. While customers may not see the inner workings of how this happens, they will notice and appreciate the efficiency. By respecting the customer's time, you may create a repeat customer that could also recommend your company to a friend or family member.
Close Leads
If you use field service business software integrated with a CRM, you will have all the tools at your fingertips to improve customer relationships and communication. Different types of field sales software exist today, but you'll want to make sure yours can help with some of the most basic tasks. Take advantage of the sales tools provided by field service software to stay up to date, close deals, and up-sell current clients.
Use your software to give timely responses to consultation requests and appointment requests. By responding quickly to a potential lead, you increase the likelihood of a conversion. With field service software, you can receive notifications for requests and get automatic reminders to follow up with leads at certain points in the sales process. The more you follow up with a lead, the more likely they will convert.
Other features help technicians and salesmen in the field. When your team rolls out, use the field sales software to check out which other prospects live/work in the same area. This knowledge allows your sales team to optimize their sales routes, take advantage of downtime before or after meetings, and maximize the work day. If your team needs a visual aid in a pinch, our field service software helps with that. Don't have wifi to access your information? Get a field sales software that keeps data stored locally via Dropbox integration.
Enhancing Communication
The best field service software offers all the tools you need in one convenient application, improving communication internally and externally. Improving internal communications always helps improve customer relationships, but your external communications remain important as well. If a technician shows up to a job, and the customer wants or needs additional services or wants to adjust something on their account, there can be a huge delay if your technicians have to call the office and do the back and forth. Field service software can get up-to-date customer information and give a quote in the field. The office will have real-time access to this data and vice versa. This gives the customers instant satisfaction, improving your relationship with them.
If a customer calls in a last-minute or emergency job, your office will dispatch the job while still on the phone with the customer. This also gives instant satisfaction to your customer. With field service dispatch software integration, you can bring the communication full circle to billing and invoicing. Techs using the software in the field can complete work orders in real-time, sending invoices almost immediately following the job.
Although field service software optimizes technician routes to make sure they don't mismanage their time, on occasion things will pop up and technicians may arrive late to a job. Customers get impatient sometimes and will call the office to get an update. With traditional methods, you'd have to put the customer on hold, call the technician, and then relay their information back to the customer. Use your field service software to track your employees and give real-time updates to customers should they ask for an update.
Improving customer relationships will not only help you retain your current customers but help with new ones. Your customers are the best marketing tool you have. Putting your best foot forward can give your company a leg up on the competition. Word of mouth remains extremely powerful. Use your field service software to help. When your customers see an efficient company that pays attention to detail, shows up on time, and responds quickly, they will likely refer you to others. This can only help grow your business, the ultimate goal of integrating your company with field service software to begin with. Make sure you are getting the most out of your software by making it work for you.
---
Top Lawn Care Business Apps
On June 12th, 2017 by
In today's fast-paced, always-on-the-go society, smartphones have become one of the most important assets a business owner can own. Business owners seemingly never disconnect from their business (or even the internet) thanks to their smartphones. So why not optimize these devices to help run your business? Below we have highlighted our top five mobile apps for business owners to get the most efficiency and effectiveness out of their smartphones.
Evernote
One of the best productivity mobile apps for business owners on the market, this amazing note taking app allows for easy and seamless collaboration. The cross-device capabilities combined with the collaborative nature of Evernote makes this easily one of the best mobile apps around for business owners and small teams alike. Evernote can sync across multiple devices, allowing access from anywhere anytime, and even allows your team to create to-do lists. Combine that with a clear and distraction free interface for note taking, and you have one of the preferred mobile apps for lawn care business owners!
Wunderlist
Lawn care business owners (and all business owners really) constantly have something that needs their attention. Keeping track of all the things happening in both your personal and professional life gets tough. Fortunately, Wunderlist can help! This mobile app allows business owners to organize all of their thoughts and to-dos quickly and effectively, leading to greatly increased productivity. With the ability to create lists from any device, share lists with employees, have conversations regarding to-dos, delegate out tasks, and more, Wunderlist ranks as one of the top productivity apps around!
DocuSign
DocuSign makes doing business on the go easier. This secure and simple mobile app allows users to electronically sign documents and collect signatures from customers, contractors, or anyone else as well. This handy mobile app perfectly allows lawn care business owners to reduce security issues stemming from printing, faxing, and scanning documents. With real time notifications through DocuSign, you'll never miss an important document again!
RescueTime
Ever find yourself wishing you had more hours in the day to run your business? RescueTime provides you with just that! This amazing app represents a must-have for lawn care business owners, as well as owners of any other type of business. RescueTime provides you with reports of how you spend time on your phone and computer. The mobile app version of this program features accurate and automatic tracking of your mobile app usage, reporting voice call times, and where you spend your website browsing time. This amazing app helps you manage your time perfectly so that you can get the most out of every day.
iFleet
iFleet is simply one of the best mobile apps available for lawn care business owners, or any field service business. Providing an all-in-one solution to scheduling efficiency, the iFleet mobile app equips your workers with the ability to access schedules, bring up contact information for customers and clients, view equipment records, reference service histories, and more. If you truly want an app to take your business to the next level, look no further than iFleet!
Request a demo today to see for yourself how the ultimate field service desktop software and mobile apps can help grow your business!
---
Smart Service Named "Field Service Frontrunner"
On June 5th, 2017 by
The team at Smart Service works long and hard to make our software an effective and invaluable tool, and we like to see that work recognized from time to time. Last week, the field service software authority Software Advice recognized Smart Service as a top option amongst over 400 peers.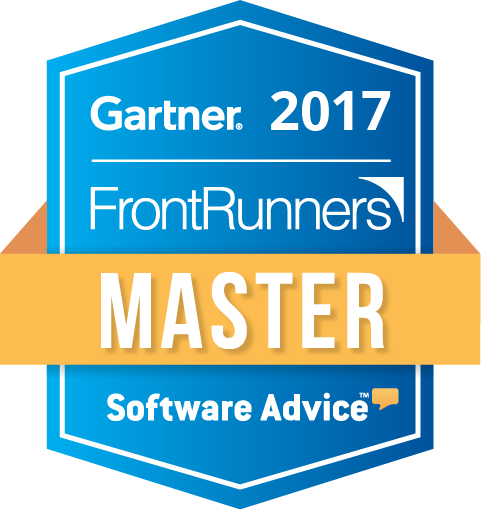 The Software Advice FrontRunner designation places software packages into one of four quadrants, each representing different combinations of value and capability. Smart Service landed in the "Master" quadrant. According to Software Advice, this designation means Smart Service "may focus more heavily on certain key features or market segments. If you need a more specialized set of functionality, then a product in the Masters quadrant might be right for you."
If you'd like to learn more about Smart Service and how its key features fit your business, call 1-888-518-0818 or request a free demo today.
---
Field Service Company Website Must-Haves
On June 1st, 2017 by
In this day and age, the online presence of your company is more important than ever. More and more potential customers make their decisions solely based on online research and what they see on a company's website, without ever making direct contact with the seller before making their choice. This recent shift in the way your potential customers research and shop makes your field service company website of the utmost importance. Whether through field service software that your business utilizes throughout the work day or through your website that you use to bring in leads, the technology behind your field service company carries more importance than ever. Below we will highlight the three major points that any field service company website needs to consider for success.
Strong Selling Points and Information
Whether your company exists in the HVAC industry, the plumbing industry, or boasts a different socialization, you should highlight your major selling points on your company's website. Your website can, and often will, play a major factor in your potential customer's buying decision. What makes your company stand out from the competition? Is it the years of experience and expertise that your company provides, lower pricing than your competitors, more specialized services, faster turnaround times on work orders, or the ability to handle certain types of work orders that your competitors cannot? Whatever the case, your potential customers will look for and notice these things. Show them clearly on your website to help your potential customers align their needs with your field service business.
Testimonials, Reviews, and Social Proofing
Reviews and social proofing represent another significant aspect of your online presence and website. Potential customers will more likely select your business for their needs if they see success stories and positive reviews from previous clients. Reviews carry special importance in the field service industry. Positive reviews and testimonials offer your potential customers a sense of security and confidence in your business, which in turn leads them closer to the possibility of working with your company.
Social media can make for another important factor here, albeit not directly on your website. Social media can significantly influence your customer's buying decision. Establish Facebook and Twitter profiles at a minimum, as well as a Google My Business listing. These provide another layer of security and confidence for your potential customers. These off-site elements provide an additional level of credibility, as they often feature independent hubs for reviews for your business.
Clear Call to Action
Whether your field service company is in the plumbing industry, HVAC industry, window cleaning industry, or another field, your goal is the same. Your company's website should serve as a portal to generate leads and gather customers for your business. The single most important aspect of doing this effectively is to include clear and concise calls to action on your company website. Potential customers need to know where to go and what to do to work with your business. Provide clear ways for your clients to get in touch with your business from your site. Prominently feature your company's phone number in the header at the top of your site across all pages. Feature a "Contact Us" or "Request A Quote" form on any page that could generate leads or sales. This helps capture customers who prefer email contact over phone calls.
Field Service Software
While not necessarily a part of your company's website, proper field service software and work order software compose integral parts of your company's technology and ability to retain clients. In many field service industries, the ability to maintain customers and obtain repeat business is every bit as important as bringing in new leads. Enter top of the line field service software. With the ability to schedule new field service jobs, maintain customer information and work history, record job notes, create invoices directly in QuickBooks, and manage recurring appointments and service jobs, field service software represents one of the best ways a company can use technology to its advantage. With an efficient and streamlined process, your company can offer a great experience to customers throughout the entire process.
Request a demo for yourself today to see how the ultimate service scheduling software for QuickBooks can help grow your business!
---

Deprecated: File Theme without sidebar.php is deprecated since version 3.0.0 with no alternative available. Please include a sidebar.php template in your theme. in /home/smartservice/dev.smartservice.com/wp-includes/functions.php on line 5579