The Best Features of HVAC Software
On April 19th, 2017 by
Many reasons compel HVAC businesses to add HVAC software as a part of their business strategy. HVAC software can help streamline services to help both employees and customers. Read on to learn about the benefits HVAC software offers and the impact these features can have on your business.
Improved Communication
One of the best features of HVAC software is the instant access it offers to customer records. With HVAC software, everyone on your team can access your customer's service history. So, no matter who your customers talk to on the phone, they can access clear answers regarding service and payment history.
Your customers will love how streamlined the process of getting customer service questions answered becomes. Meanwhile, your team will love how easy access to client information helps them save potential headaches. HVAC software keeps everyone on the same page, and with your employees on the same page, customers benefit.
Better Scheduling and Dispatching
HVAC software can help with your in-house communication, enhancing both scheduling and dispatching. HVAC software helps your office employees and field employees communicate more effectively about daily schedules and expectations. In fact, your workers can use software to access their routes without first heading into the office. Software can tell them their routes and schedules as soon as they wake up.
Software also shows worker location, so your office dispatchers know your drivers' locations and approximate arrival time to a job site. This feature helps your entire team better serve your customers and surpass their expectations.
Easier Routing
Not only will scheduling and dispatching get easier with software, but your team will also gain access to optimized route creation. The right HVAC software helps ensure that your routes make sense. Stop wasting time zig-zagging all across your service area.
Optimized routes help your team of specialists in the field waste less time driving and spend more time servicing customers. Your office administrator can also save the time they might use optimizing routes by hand. Save all of your team members valuable time and speed up the process of creating service routes.
Completely Portable
Another bonus to adding HVAC software to your business? Mobility. Regardless of your workers' locations they can access the information they need to serve customers. Eliminate any worries connected with printing out documents or accidentally forgetting paperwork before leaving the office. Customers can sign digital service documents with your team still in the field, making invoice processing easier than ever for your team.
Go Paperless
Lastly, HVAC software can help your team can go completely paperless. Going paperless will help save your business money on paper costs. Going paperless will also help your team save the time consumed by printing paper invoices and locating lost documents.
With HVAC software, all your important documents exist in one convenient place. Your customers can sign paperwork on your workers' devices at the job site. Immediately, your office team will gain access to this documentation.
Think these 5 features can help your HVAC business? Request a free demo of our field service management software. See for yourself how software can help your business grow!
---
Update 98: Custom Work Orders in iFleet, Technician Map View, Search by Email
On April 11th, 2017 by
The first quarterly release of 2017 adds a ton of great new content to Smart Service and iFleet. Educate yourself by reading about everything below!
Edit Email Addresses and Customer Notes in iFleet – A new permission set in Smart Service will enable iFleet users to edit the email address assigned to a job. This will let techs send paperwork to the correct address in the field. This feature also makes it easier for techs to update office records; once an email address is changed and a job finalized, the new info moves back to Smart Service.
Enable permission in Smart Service, and iFleet users can also add new information to the private customer notes field in iFleet. This permission can be enabled on a user-by-user basis, allowing you to decide which techs (if any) have this authority.
Custom Work Orders in iFleet – The default work order built by iFleet works great for most service companies, but those that require more customization can now disable this work order and replace it with a custom form. Enable this option, and iFleet will display the custom form when a technician begins to finalize a job, skipping the default signature and terms screens. (You can enable this option in the Smart Service setup tab. Custom work order preferences can then be set on each individual iFleet device.)
User Information in History Records – History records and history reports include a new Posted By field. This field displays the name of the Smart Service user responsible for posting a job to QuickBooks. This will allow users to consult the appropriate person when they have a question about a completed job.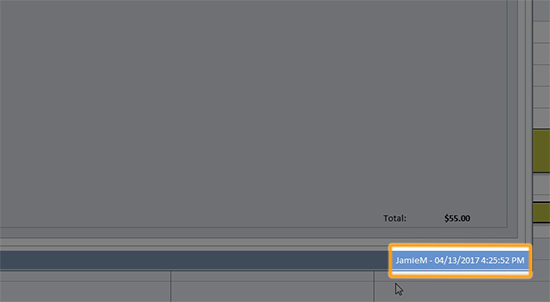 Search by Email Address – You can now search for a customer's email address in the Contact Search screen. This makes it much easier to quickly pull up a customer's records after receiving an email from that customer.
Map View of Technician Schedules – Smart Service users can now view maps depicting a technician's route for a given day. To do this, click the user's summary bar, then click the Mapping button on the Smart Pane.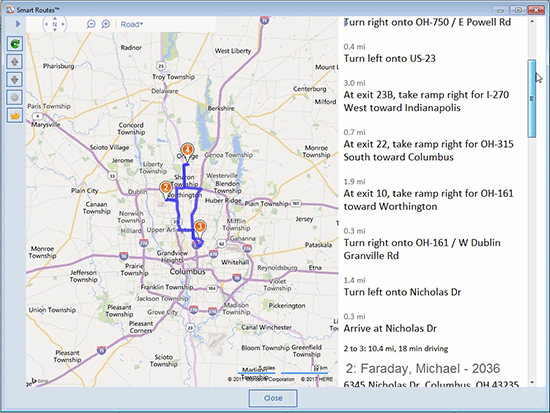 Address Certification on Sub-Records – Certify an address on one job for a customer, and that certification will be applied throughout that customer's records, updating all their existing and future jobs. (Refer to our update 97 article and video for more information on address certification.)

View Estimates Shortcut – We've added a view estimates shortcut to customer records, making customer and prospect records associated with the same customer get along much more nicely. Customer records that contain an associated prospect now have a button in the Locations/Jobs tab to open the Locations/Estimates for that prospect.
Enhanced Service Agreement Mail Merge – When performing a mail merge in our Service Agreement module, Smart Service now includes the customer's email address, service address, billing address, and equipment information.

Delete Confirmation Prompt – A popup will now ask for confirmation when you attempt to delete correspondence and equipment records. This helps prevent the accidental erasure of important information due to mis-clicks.

Copy Data Update – The Copy Data utility will now include the information included in the Map Code field.
Click to view the complete 10.98 release notes.
Click to update Smart Service.
---

Deprecated: File Theme without sidebar.php is deprecated since version 3.0.0 with no alternative available. Please include a sidebar.php template in your theme. in /home/smartservice/dev.smartservice.com/wp-includes/functions.php on line 5579