Update 95: Job Profitability Reporting, iFleet Purchase Orders
On June 30th, 2016 by
Released on June 30, 2016, Update 95 brings job profitability reporting to Smart Service and purchase orders to iFleet.
Read about these and the other version 95 updates below.
Job Profitability Reporting – Smart Service now automatically compares your material cost against the rate your company charges customers for materials to generate a rough preview of job profitability. As a result, Gross Profit and Gross Profit Percentage are viewable within every job. This information has also become available within reporting.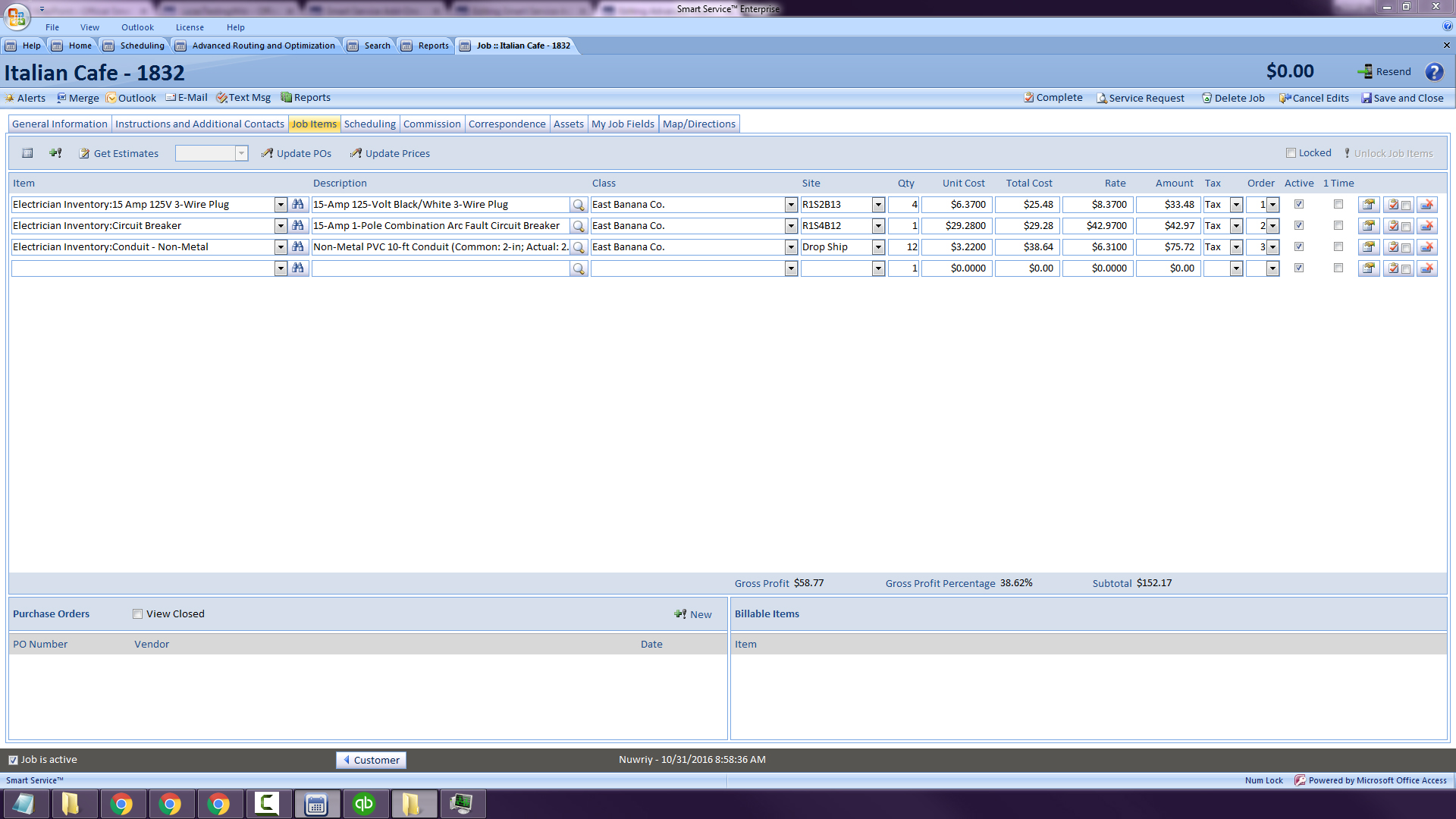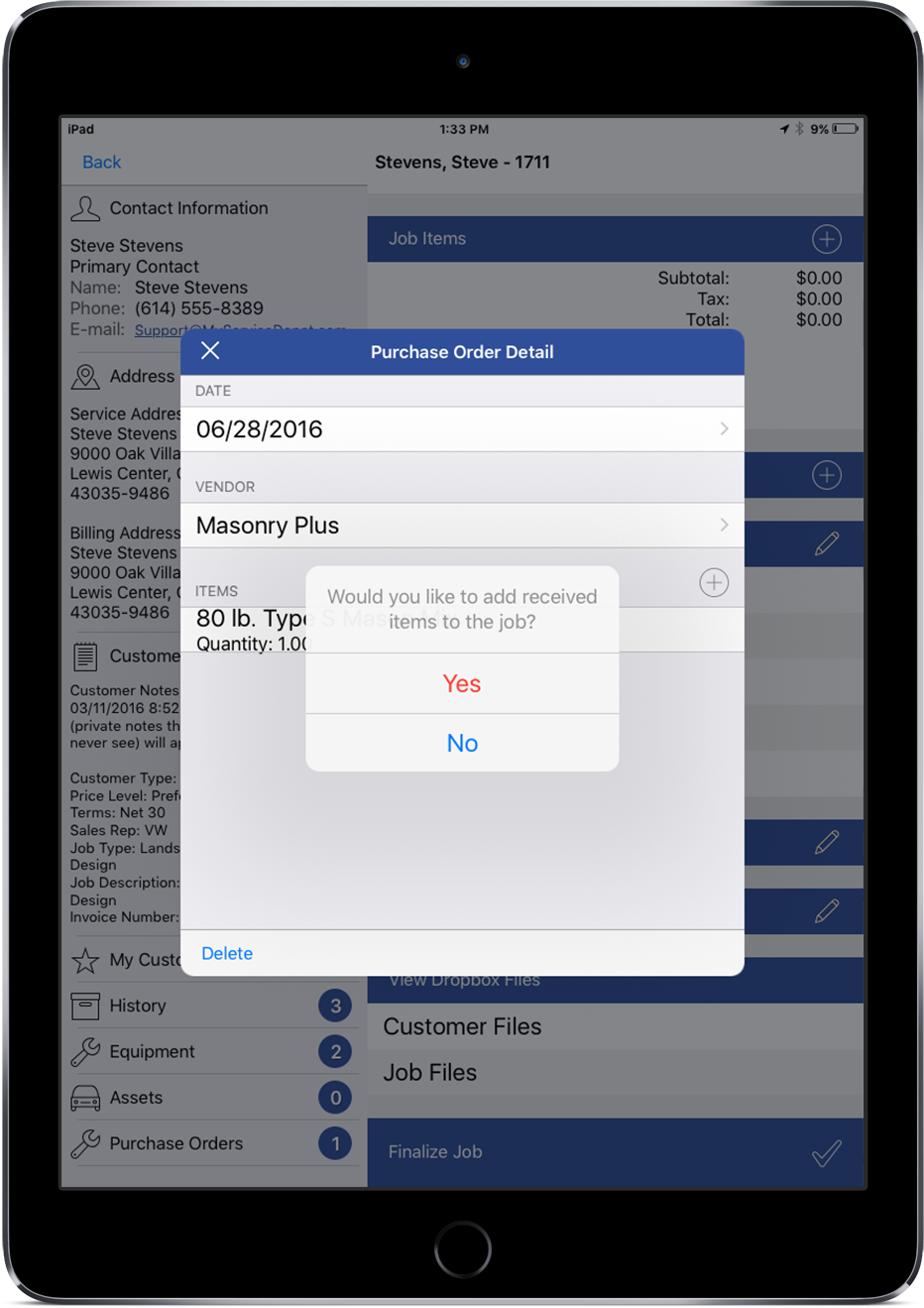 iFeet Purchase Orders – Update 94 revamped purchase orders in Smart Service. Now, it's iFleet's turn. Technicians can now create purchase orders in the field as needed. These orders must then be reviewed by office personnel in Smart Service before they can be finalized into QuickBooks.
QuickBooks File Validation – If your company uses more than one QuickBooks company file (e.g. if you run two separate service businesses from the same building), Smart Service will check to make sure it connects to the proper QuickBooks database upon startup. This prevents any records from getting mixed up.
Group Service Agreement Mail Merge – Update 94 added mail merge functionality to the service agreement module, and update 95 expands this, allowing a mail merge for a single service agreement. This allows users to use an email template to send a subscription reminder to customers on a one-on-one basis.
Deleting/Inactivating Employees – When employees get deleted or inactivated, Smart Service will now check to see if these employees have any active jobs assigned to the eliminated employee. If such jobs exist, Smart Service requires that the jobs are reassigned.
If you need help with these new features, please call (888-518-0818) or order additional training!
Click to view the complete 10.95 release notes.
Click to update Smart Service!
---
What happens after you buy Smart Service?
On June 14th, 2016 by
For most businesses, a software purchase marks a major change in operations. If mishandled, these transitions can induce stress and end in tears. This is exactly why the Smart Service team holds your hand through the implementation process. It's important to us that our customers get up and running smoothly, so we've designed the following series of steps to make sure every customer hits the ground running. Here's what happens after you buy Smart Service:
1. Installation – Worried about the technical component of hooking your QuickBooks up to Smart Service? Fret not, we do it for you! Within hours of your purchase, our team will reach out to you to schedule an installation. During this installation, one of our expert technicians will remotely connect to your office computer(s) and install Smart Service.
2. Training Session 1 – Two to three days after installation, our implementation team will follow up to conduct the first of two training classes. (We allow this brief layover period to give you a chance to experiment with the software on your own.) During the training session, we will remotely connect to your computers to show you some basic Smart Service techniques using your schedule and your customers. The first training session usually covers the setup tab, home screen, employee setup and permissions, the scheduler, searching/filtering contacts, and the Smart Service job process.
3. Training Session 2 – The second training session generally occurs within a week of the first. This session covers the mobile app iFleet (and any other add ons your company may have purchased). Training Session 2 is all about tailoring Smart Service to your company, so we encourage you to bring your own list of questions to the table. At the end of session two, our goal is to come up with the perfect Smart Service workflow for the specialized needs of your business. Once completed, we will mail you a DVD containing video recordings of both of your training sessions.
Of course, your relationship with the Smart Service team doesn't end at the conclusion of the second session. After you complete your training, you'll have several resources at your disposal to help you solve any software issue you might encounter.
Help Desk – Our Help Desk exists to make you happy, plain and simple. Call us during regular business hours (8:30 AM – 5:30 PM EST, Monday through Friday) and one of our expert technicians will find a solution to any technical problem that might ail you. To reach the Help Desk, simply call 1-888-518-0818 or email support@myservicedepot.com.
Wiki – To bone up on individual topics or obtain written instructions, check out our searchable wiki.
Tutorial Videos – Our YouTube channel contains over 80 tutorial videos that give you step-by-step instructions to help you through many of Smart Service's most popular features.
---
Why Sears Heating and Cooling Uses Smart Service
On June 1st, 2016 by
Upgrading to an enterprise software system is a major decision for any company. Before taking this leap of faith, it helps to hear from someone who has stood on the same precipice. Sears Heating & Cooling represents one such entity, and we're pleased today to offer their story.
Sears Heating & Cooling provides HVAC service to the Columbus, Ohio region. After pent up frustration a lesser scheduling application, Sears made the switch to Smart Service. Hit play to see how things turned out!
Of course, Sears isn't the only company to find success with Smart Service. Our customers page is full of success stories. Take a peek!
Need some HVAC work done in the central Ohio area? Contact Sears Heating & Cooling today!
---

Deprecated: File Theme without sidebar.php is deprecated since version 3.0.0 with no alternative available. Please include a sidebar.php template in your theme. in /home/smartservice/dev.smartservice.com/wp-includes/functions.php on line 5579