The Dangers of Relying on the Cloud
On May 16th, 2016 by
We all love the cloud. Cloud technology enhances our work lives and social lives on an everyday basis, and it's no secret why. The average American household features 5.7 internet enabled devices. These days we flit seamlessly between phones, tablets, computers, televisions, and gaming systems to do what we need to do. In every one of these places, we expect access to a good deal of the same content and data, and cloud technology gives this to us.
When Field Service Companies Rely Too Much on the Cloud
Of course, growing too reliant on this technology can end in tears. Millions of Salesforce users found this out the hard way when a 20 hour Salesforce service disruption limited or blocked all access to the service. In many cases, Salesforce customers simply had no way to conduct their business until the issue was resolved by a service-wide rollback to a previous back up. Needless to say, Salesforce customers aren't happy right now. Sometimes the worst can occur, leaving valuable information lost in cyberspace with no chance of retrieval.
Protect Your Customer Database Through Your Field Service Software
In the service industry, no asset outstrips the value of your customer database. Lose that, and business effectively stops until you get it back. When trusting your customer management to software, you need to make sure you always have access to your data, no matter what the world throws at you.
Field Service Software That Works Offline AND Online Can Protect Your Data
When choosing a business management software, find one that works as well offline as it does online. In the event of an internet failure or stormy conditions in the cloud, your technicians and customers can keep on keepin' on. With the convenience of the cloud and the ability to access data online, make sure your field service management software saves customer data on a device level. Need to use your field service mobile app at a remote jobsite? Don't worry, your service schedule awaits! Your customer info remains, even as nature itself rises against you.
Conclusion
Don't grow over reliant on cloud technology. Use it, love it, but make sure your business is prepared when that cloud turns into a storm.
---
What's new in update 94?
On May 11th, 2016 by
At My Service Depot, we continually strive to improve our products. That's why we're particularly proud of Smart Service update 94. In terms of enhancements and improvements, this release marks one of our biggest ever. So, let's dive right in and look at the highlights!
Smart Routes
Late last year we launched Smart Routes, a brand new routing solution for Smart Service. After some customer feedback, we've made several exciting improvements to this module. An enhanced map now provides detailed directions, and it's now much easier to add, reorder, or delete stops. Watch the above video for a complete Smart Routes rundown!
Purchase Orders

We've revamped the way Smart Service handles purchase orders. Now, Smart Service displays purchase orders and billable items when the job items tab is opened, making it apparent when an open purchase order is pending or a billable item has been received. Smart Service provides shortcuts to ease the creation of purchase orders, all while syncing with QuickBooks® Desktop and QuickBooks® Online. In short, Smart Service purchase orders and QuickBooks purchase orders now work together better than ever before.
Mass Updates to Customer Information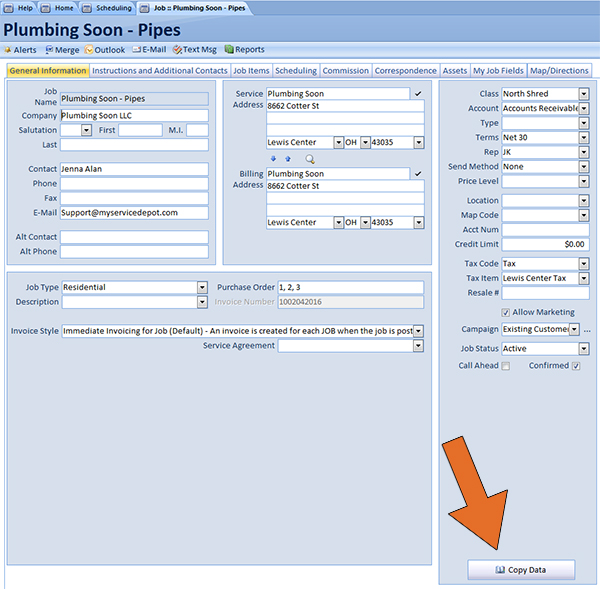 Has one of your customers changed their phone number or email address? No worries! Apply updated customer contact information throughout every one of a customer's locations or jobs with the new "copy data" function in Smart Service. Keep your records up to date without breaking a sweat.
Increased Contacts Search Screen Customization
Smart Service users now have complete control over the information displayed (and the order in which it is displayed) when conducting a search for contacts. When choosing the fields that come up, you'll now have the ability to select from this list: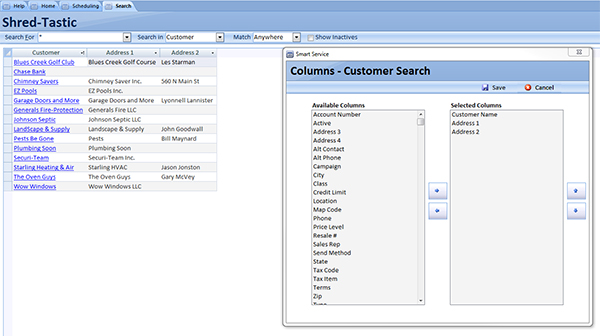 This will give companies the ability to focus on only the information they find important. It also excludes unnecessary information, keeping your system simple.
Job Exceptions
Field employees can now flag jobs with "job exceptions." Typically, they'll do this to mark an assigned job as unfinished (due to weather, a lack of parts, etc.).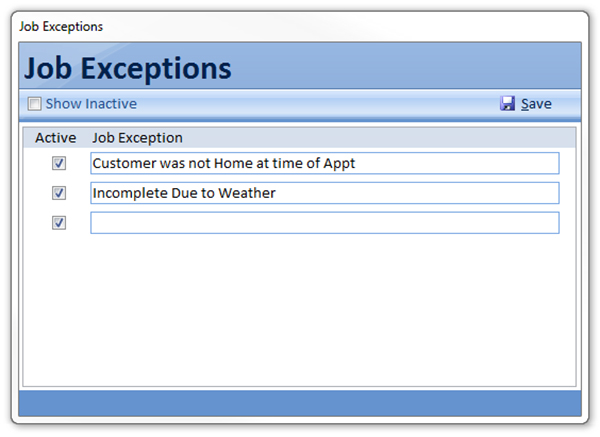 When a flagged job comes back into Smart Service, the job dispatcher will know that the job is not ready to post and will be able to react accordingly.
Report Templates
As a business owner, you need to know everything happening in your company. Smart Service's reports have always helped garner these answers, and we just made a major improvement to increase the ease of report creation.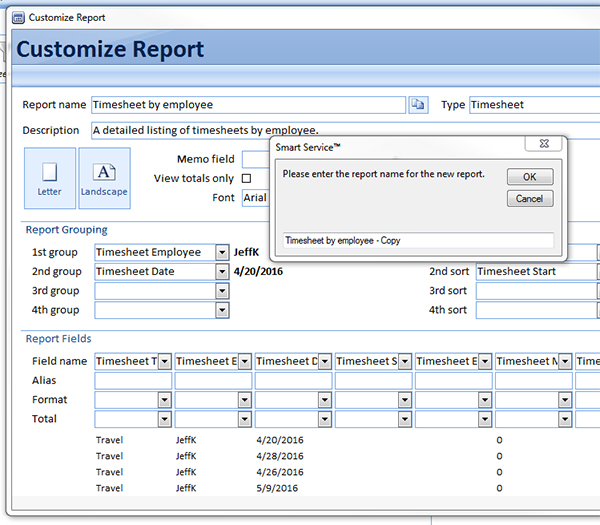 By pressing the above button, Smart Service reports can now be duplicated, allowing you to easily build a modified version of a favorite report without starting from scratch.
The above features represent a small sampling of the enhancements in Smart Service update 94. For a comprehensive list, check out our complete release notes. To download the update, head to our Support page.
---

Deprecated: File Theme without sidebar.php is deprecated since version 3.0.0 with no alternative available. Please include a sidebar.php template in your theme. in /home/smartservice/dev.smartservice.com/wp-includes/functions.php on line 5579