Management Notifications
On February 26th, 2016 by
Earlier this week, we took a look at pre-notifications in iFleet, a brand new feature that sends reminder notes to customers before technicians head to their location to perform a service. Today, we're going to examine a related feature: management notifications.
iFleet's management notifications allow technicians to keep their managers up to the minute on their movements and job progress. At predetermined points in a job or workday, iFleet shoots managers a text message or email to inform them of the situation. Take a look at this example: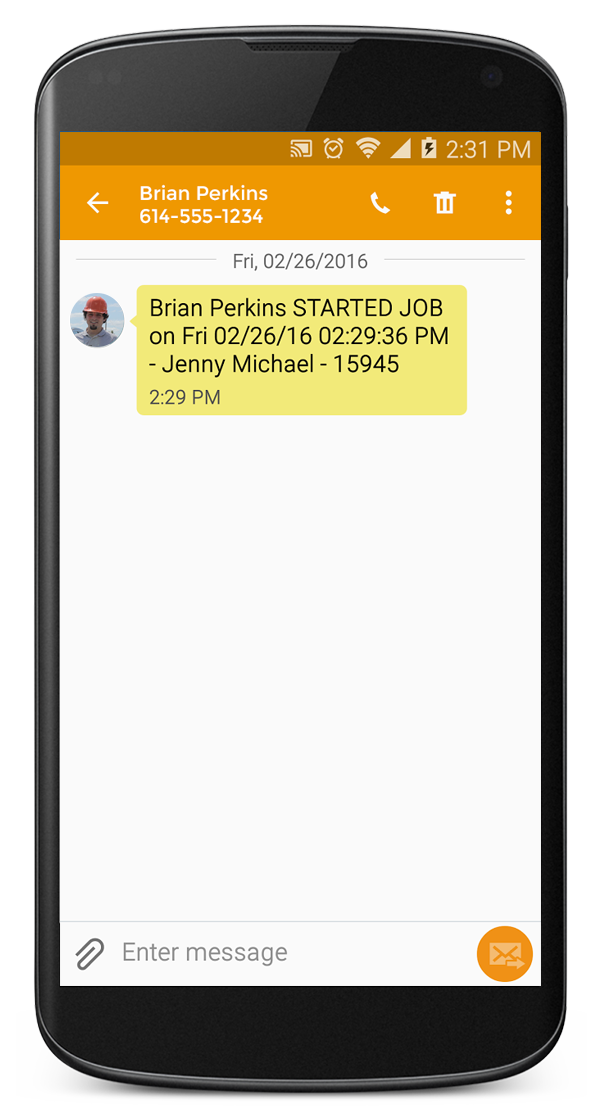 These updates ensure managers remain abreast of everything happening in their company, regardless of their location. As long as technicians have notifications switched on, they won't waste a second sending these messages. The notifications forward to the specified manager automatically whenever a tech performs the corresponding action. Should a tech, for example, clock in using iFleet, a text message will immediately inform their manager.
Depending on the size of your workforce, you might start to find some of the more trivial notifications bothersome. That's why iFleet allows users to determine which events warrant a notification. The on/off checklist is relatively self-explanatory. Take a look: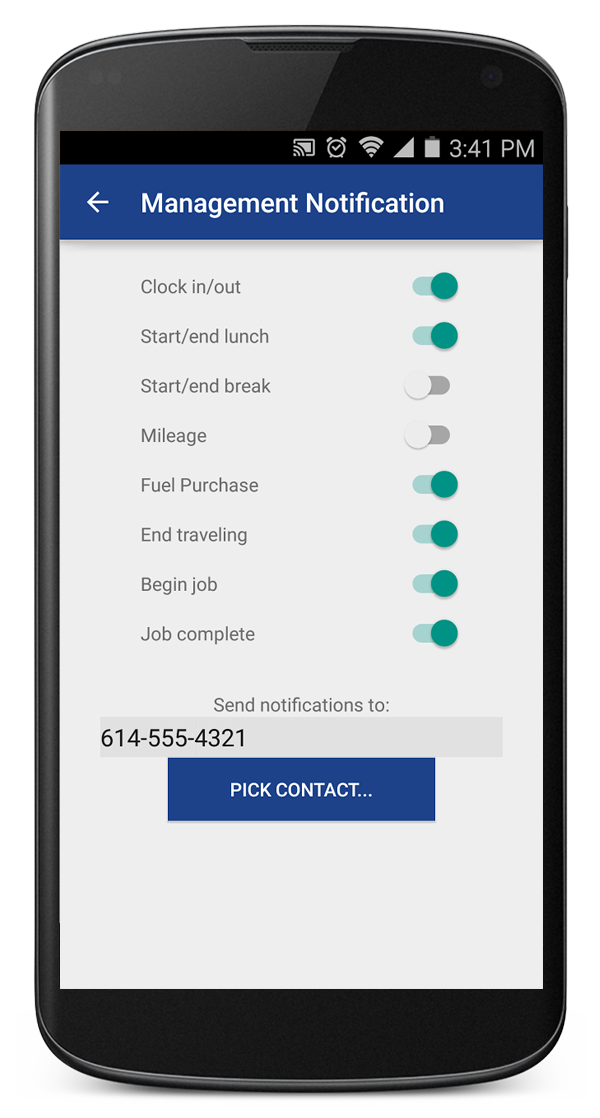 To learn more about management notifications (and to access detailed setup instructions), check out our wiki article on the subject. And remember, to stay up to date on further iFleet and Smart Service developments, continue to follow the Smart Service blog!
---
Send Job Notifications to Customers
On February 23rd, 2016 by
Here at My Service Depot, we're always seeking ways to improve our field service software and give our loyal customers more bang for their buck. That's why we're particularly proud of our latest iFleet development: customer pre-notifications.
iFleet users can now send an automatically-generated greeting message to their customer as they begin to travel to that customer's location. Let's take a look at what one of these messages looks like: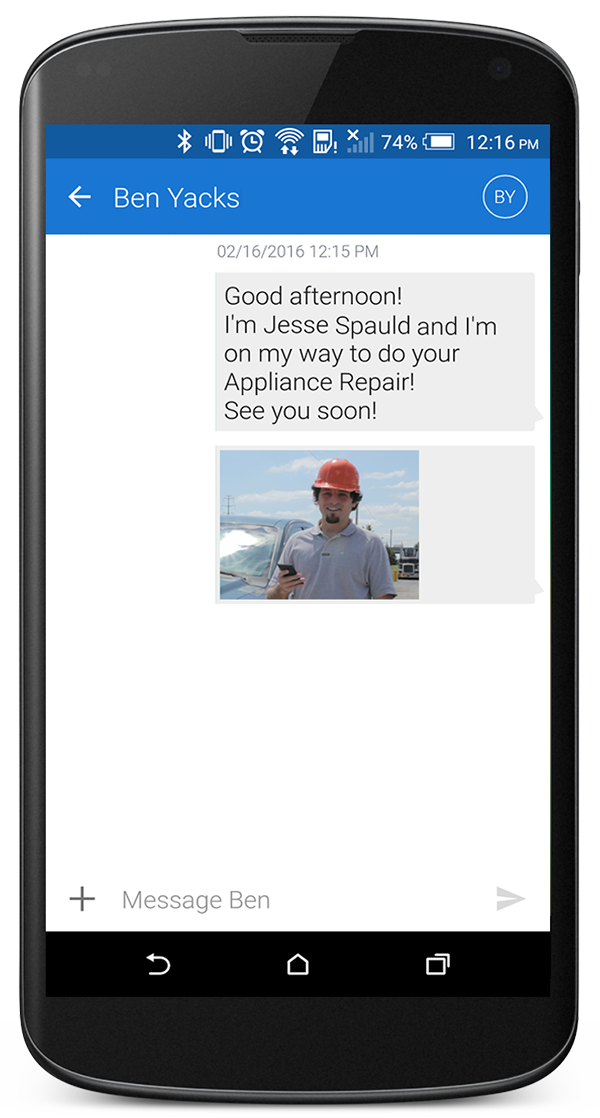 Pretty cool, right? This message serves as a great heads up for your customer, and it doesn't cost your worker a second of lost work. Why not? Because the message is automatically generated! Set up the notification using smart fields, and iFleet will automatically adapt the notification to things like the time of day and job type performed. Let's take a look at how the previous message was set up in iFleet.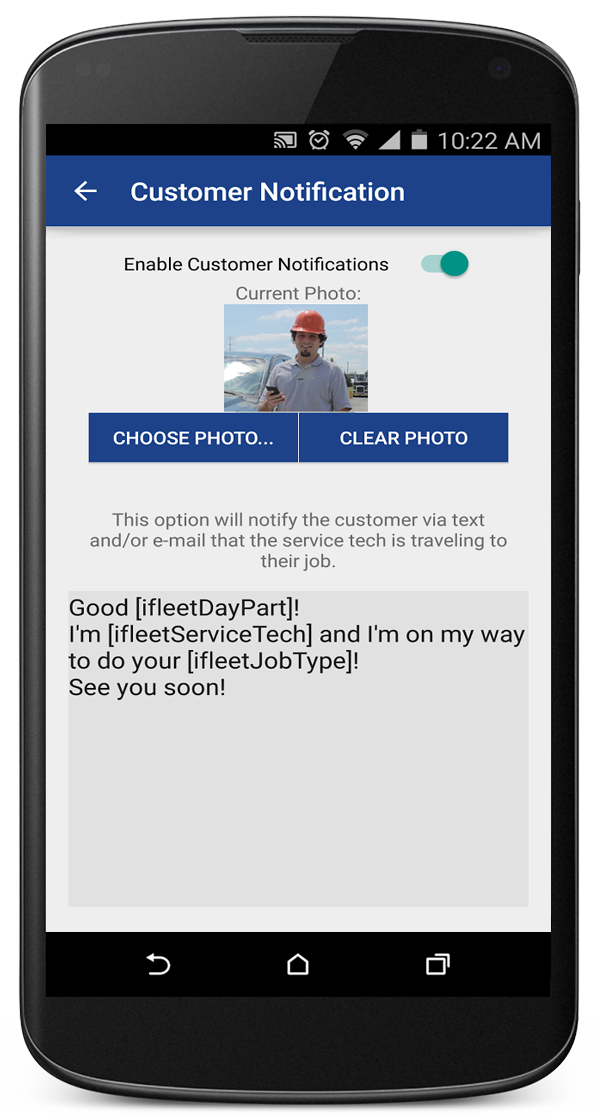 How does iFleet know when to send this message? When embarking on a new job, an iFleet user will generally tap the Start traveling to job button for time tracking purposes. If Customer Pre-Notifications are enabled, an email or text message window will pop up with the automatically generated message. From there, all the technician needs to do is tap Send!
For more information on Customer Pre-Notifications (including precise setup instructions), check out our wiki article on the subject.
Customer Pre-Notifications aren't the only exciting recent addition to iFleet. Later this week, we'll discuss Management Notifications. Until then, stay tuned to the Smart Service blog!
---
Programmable Thermostat Infographic
On February 9th, 2016 by
Winter has officially arrived! Right now every one of your customers is struggling to weigh their personal comfort against their desire to avoid bankruptcy when the heating bill arrives. As an HVAC professional, you know that a programmable thermostat can go a long way towards establishing this balance. But how do you convince your customers to bite? Well, this handy infographic might help!
To view the infographic, simply click the image below. To download the infographic, right click the image and select "Save link as…" You're welcome to share this infographic with your customers, print it out, and distribute it in whatever way you'd like. Be sure to bookmark our blog for more helpful business tips!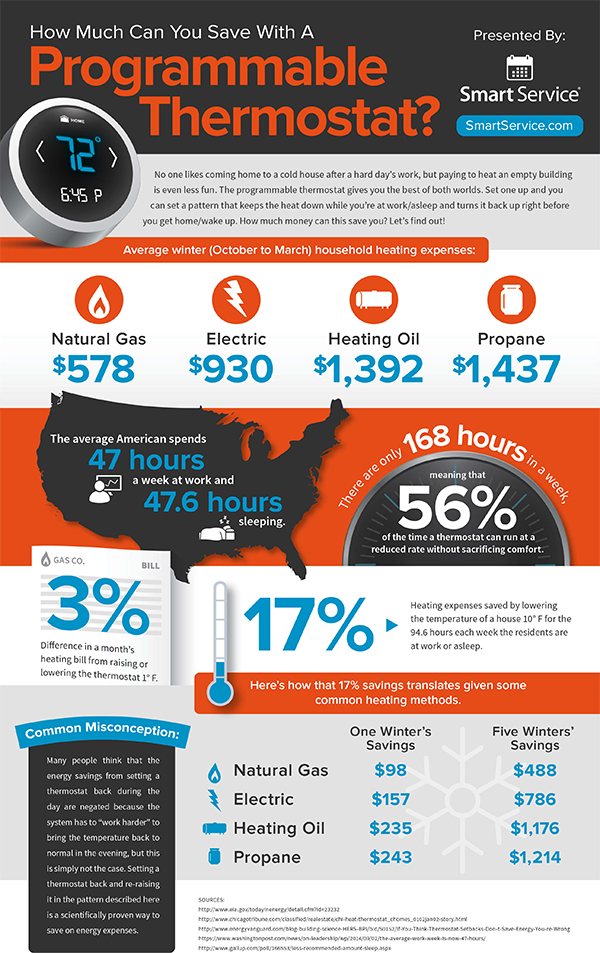 ---

Deprecated: File Theme without sidebar.php is deprecated since version 3.0.0 with no alternative available. Please include a sidebar.php template in your theme. in /home/smartservice/dev.smartservice.com/wp-includes/functions.php on line 5613