Manually Starting SQL Services
On January 21st, 2016 by
Many older Windows machines struggle to launch the SQL service required to use Smart Service after powering on or rebooting. Usually this happens when a computer or server's startup process becomes too complex. A machine that attempts to start too many processes after booting will sometimes fail to launch all of them properly. Fortunately, there's a simple series of steps to follow if this issue is affecting your Smart Service experience.
1. Open the start menu.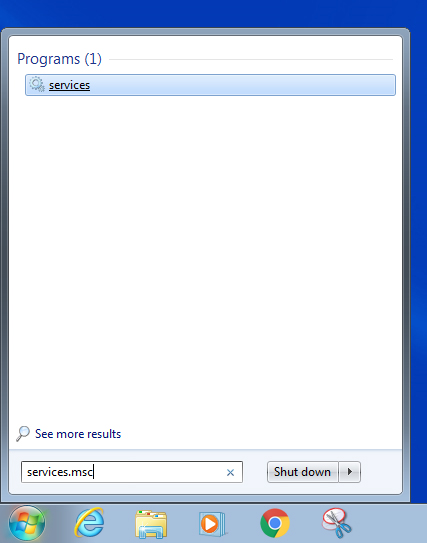 2. In the search bar, type "services.msc." An item marked "services" will appear with a gear icon next to it. Click on this item.
3. In the resulting Services window, scroll down until you find "Sql Server (SMARTSERVICE)"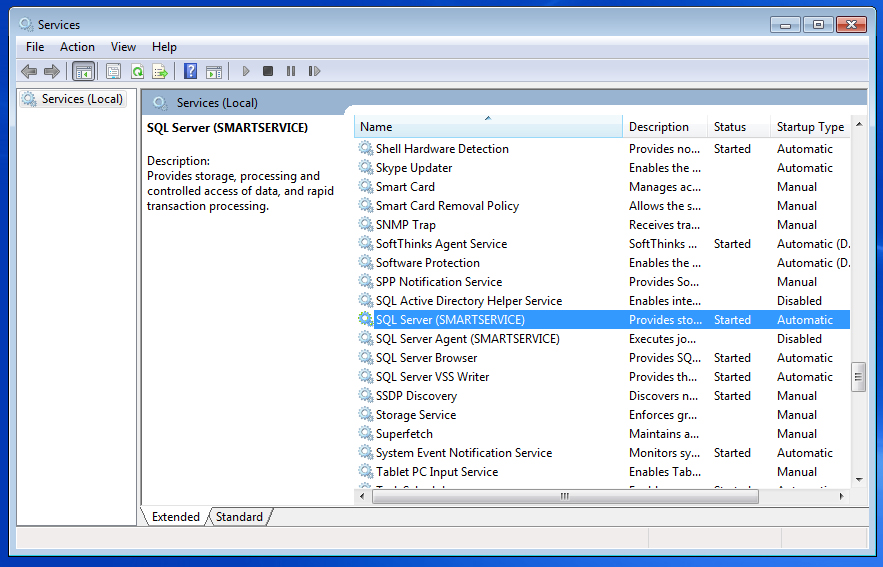 4. The status column will indicate whether or not the service has started. If the status column does not read "Started" right click the item and select "Start"
If your company is also using iFleet, you'll want to take these same steps to make sure the service "iFleet Service" has started.
NOTE: You may need administrator privileges to perform this process. If you are not an administrator on your workstation, contact your supervisor or IT specialist.
---
7 Ways to Keep Your House Warm
On January 20th, 2016 by
When it's too warm to turn on the heat, but too cold to turn on the AC, other sources of heat can keep your home at a comfortable level! Constantly shifting the temperatures on the thermostat can eat into your savings. If you're looking for a way to keep your living space comfortable without going broke, consider implementing a few of these low cost home heating ideas.
HVAC professionals! Feel free to share these tips with any of your customers looking for that Goldilocks level of temperature comfort.
Install a programmable thermostat. A programmable thermostat can be set up to turn the heat down while you're at work or asleep and turn it back up while you're in the house enjoying your off time.
Let some sun in. No heat source outstrips the sun, so why not take advantage of it? Opening the drapes and letting some light in during the day is a great (and free) way to increase a room's temperature
Shutter the curtains after dark. Once the sun goes down, drawing the curtains can help keep heat trapped inside your house.
Reverse the rotation of ceiling fans. Hot air rises, but you live on the ground. Most ceiling fans have a switch that will reverse their rotation. This will help push that precious hot air back down to earth.
Keep the heat in. Close the doors to unused room and closets, draw the curtains, and border window sills or door cracks with draft-stoppers.
Bake! Make a conscious effort to use your oven more when it's a little chilly. This will help you kill two birds with one stone. After all, we all have to eat!
Move your furniture away from vents and other heat sources. A pre-warmed couch might sound awesome, but blocking a vent with furniture means all that precious heat can't reach the room at large.
Turn on the fireplace! While we often think of fireplaces as being used solely in the winter, they can keep your home nice and warm when spring hasn't quite sprung.
---
Smart Routes
On January 6th, 2016 by
Smart Service has a brand new answer to the routing needs of the modern service company: Smart Routes! Add route optimization to the already-prolific scheduling, dispatching, equipment tracking, and invoicing abilities of Smart Service to reap some massive time and fuel savings.
How does Smart Routes work? Easy. Simply assign jobs to an employee, pick a day, then press a button. Smart Routes then arranges jobs in the most logical, efficient manner available. This module puts your business on autopilot!
Like every one of Smart Service's features, Smart Routes fits around the specific, individual needs of a service company. It all depends on how you've chosen to run your business. If you like, you can set a hard limit on the number of jobs included in each technician's daily route. If you'd prefer to schedule only enough jobs to fill up an eight hour workday, that option exists as well. With Smart Routes, the choice is yours!
Once you set your route, you can print the navigation and work order information and hand the results to your workers. Or, if you're interested in some truly incredible time savings, you can dispatch routes directly to your employees' mobile devices via the iFleet work order app.
If you want a smarter way to route your day, talk to us about Smart Routes today. Simply call us at 1-888-518-0818 or request a free demonstration.
---

Deprecated: File Theme without sidebar.php is deprecated since version 3.0.0 with no alternative available. Please include a sidebar.php template in your theme. in /home/smartservice/dev.smartservice.com/wp-includes/functions.php on line 5579