Multi-Truck Inventory Product Demo
On November 19th, 2015 by
For businesses with a single warehouse or location, managing inventory is a relatively straightforward process. For the service companies of the world, things aren't so simple. Most start with a centralized warehouse or office, then compound the complexity with a fleet of vehicles. After making and receiving a parts order, it's sometimes tricky to track which truck or building items end up on/in.
This is precisely why Smart Service's Multi-Truck Inventory module is so cool. For service companies that need to track multiple, distinct inventories, there's no better tool. Check out our brand new demonstration video to learn how it works:
If your service company is looking for a better means of handling inventory, consider requesting a demo of the Multi-Truck Inventory module for Smart Service today.
---
Preventative Maintenance Infographic
On November 10th, 2015 by
We're firmly entrenched in autumn, and that means only one thing: winter is coming. If you're an HVAC company, you know that this is your last chance to get your customers ready for the wintery weather ahead. The best way to do this? Preventative maintenance! Now is the time to sell as many PM contracts as possible, and the Smart Service team has created a great tool to help you do precisely this. Our informative infographic makes the case for preventative maintenance as sound financial planning.
Feel free to download this infographic and share it with your customer base in any way you like. One of the goals of the Smart Service blog is to function as an all-around resource for the service industry. To take advantage of more useful business tips, be sure to check back frequently, as this space receives regular updates.
To download the infographic, simply right click the image below and select "Save link as…"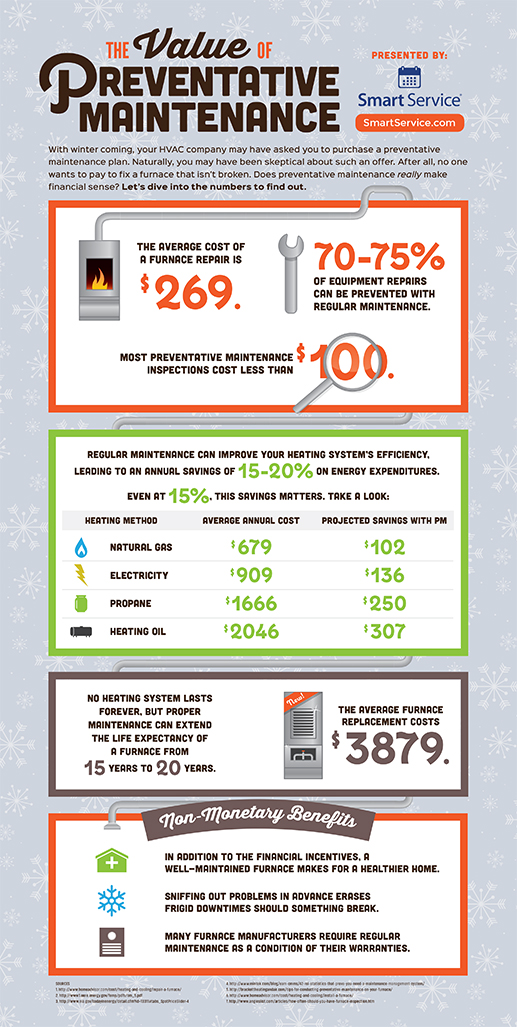 ---
Using the Waiting List
On November 4th, 2015 by
When setting a service schedule, it's possible to run across a job that simply cannot be scheduled right away. Sometimes, the job calls for specific weather conditions or backordered parts. If you don't have a good system for handling these scenarios, finding a good time to do these jobs quickly becomes a nightmare. Panic at the scheduler can mean lost revenue, and even worse, lost trust.
This is where the right service scheduling software can make a huge difference. Smart Service eliminates any margin for error through its handy waiting list feature. When a customer requests a service that can't be scheduled right away (or when a previously scheduled job needs to be reset), the job can be added to Smart Service's Waiting List. Jobs on the Waiting List remain there until a time and technician are assigned. In the meantime, Waiting List notes (like the one pictured below) will help dispatchers remember why a job was put off to begin with.

Pretty cool, right? But how does Smart Service make sure Waiting List jobs aren't forgotten? Simple. By keeping them front and center! Every time you open Smart Service or click on the Home button, you can take a quick look at the number of jobs on the Waiting List.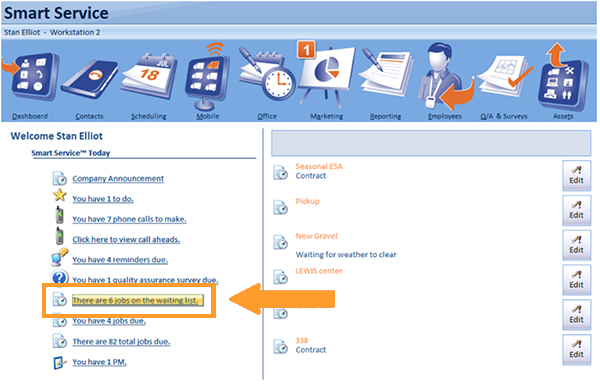 Any jobs that have been placed on the Waiting List can be identified and accessed throughout Smart Service. With proper use of the Waiting List, you'll always know which of your customers are still in need of service, and you'll be able to get them scheduled as soon as the right conditions are met. Request a demo today to get a firsthand look at the Smart Service scheduler.
---

Deprecated: File Theme without sidebar.php is deprecated since version 3.0.0 with no alternative available. Please include a sidebar.php template in your theme. in /home/smartservice/dev.smartservice.com/wp-includes/functions.php on line 5579