Profile: A Service Company Success Story
On February 27th, 2015 by
Is your business ready to embrace the paperless revolution and go mobile? If you're on the fence about augmenting your job process with service software, Plumber Magazine has a fantastic article profiling a company that did just that: Seattle's Jim Dandy Sewer & Plumbing. The piece is a must-read, so be sure to check it out.
The Plumber Magazine article does a great job of detailing the progressive thinking and managerial prowess it takes to make dramatic improvements to a business. Here are some of the highlights:
"The software adoption has paid off in many ways, not the least of which is a newfound confidence for Spencer based on the power of real-time communication with the field."
"I was able to buy a second business based on the ability to get every single email sent to me in real time so I could make instant decisions — notice lost business opportunities, collect credit card payments on time — so no balls got dropped."
---
Perks of Going Mobile
On February 13th, 2015 by
In 2015, it's easy to feel overwhelmed by technology. With smart phones, tablets, laptops, and more all vying for your attention, it's hard to determine what move your company should make. Should you embrace the efficiency and speed of new technology or stick with an old-fashioned, offline approach?
It's a tough question. Luckily, your friends at My Service Depot are here to help. We've prepared a handy infographic to help you draw your own conclusion. Is going mobile the right move for your service business? Take a look at what the numbers say!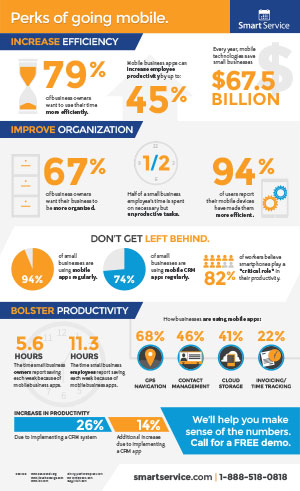 ---

Deprecated: File Theme without sidebar.php is deprecated since version 3.0.0 with no alternative available. Please include a sidebar.php template in your theme. in /home/smartservice/dev.smartservice.com/wp-includes/functions.php on line 5579