The Referral Program
---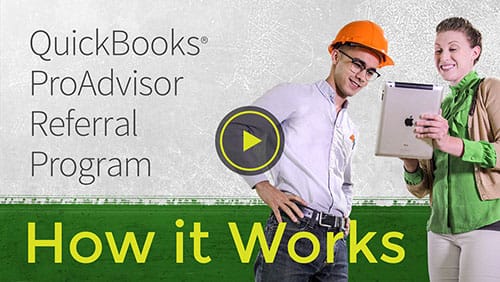 ---
The Smart Service Referral Program allows QuickBooks ProAdvisors to collect a 10% referral fee (an average value of $500) when one of their customers purchases the QuickBooks scheduling and dispatching add-on Smart Service. To participate in the program, simply follow these steps:
---
Sign up for the referral program. Use the form on this page to enroll in the program. Registration is free and carries no commitment.
Tell your customers about Smart Service.  Field service companies that schedule and dispatch jobs by hand or with an external scheduling app make perfect prospects for Smart Service. After you enroll in the referral program, we'll send you materials you can use to show these clients how Smart Service can streamline their operations.
Bring us your clients and get paid!  If your customers are interested in Smart Service, enter their information into our referral portal (which you can access after enrolling). Once you do this, our sales team will reach out to you to talk about your client and what they're looking to get out of our software. If both parties are satisfied with the conversation, we'll contact your customer to complete the sales process. If your customer ultimately purchases Smart Service, you'll receive a referral fee of 10% of the final sale price. It's that simple!
Join the referral program today!
What is Smart Service?
---
Smart Service is a direct add-on to QuickBooks that adds scheduling, dispatching, routing, work order management, custom forms, equipment tracking, workforce tracking, service histories, and more to the accounting program. Smart Service allows field service companies to go mobile, eliminate paper forms, and streamline their operations across the board.
---
Who uses Smart Service?
---
Your field service (HVAC, plumbing, electrician, landscaping, etc.) clients use QuickBooks every day. You've seen firsthand how the program helps these companies manage their accounting, but you've also seen that in the vital areas of scheduling and dispatching, QuickBooks could use a boost. This is precisely where Smart Service comes in. Smart Service bolsters QuickBooks to allow field service companies of every size and description to easily schedule and dispatch jobs.
Request a free demo for your own personal Smart Service tour!
An asterisk(*) indicates a required field