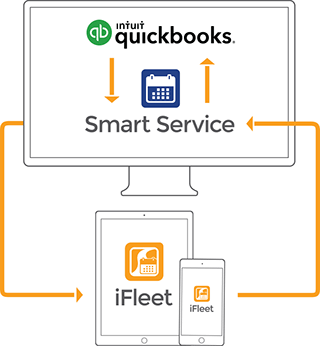 The Smart Service Connection
Right now, your customers are just sitting in QuickBooks. Install Smart Service field service management software and you can start scheduling work for them. Add the iFleet field service app and you can dispatch that work straight to your employees' mobile devices. They'll do their jobs, then send completed work orders back to the office, creating ready-to-bill invoices. Start wrapping up your jobs in record time!
---
Work Order Software
---
Click a button in Smart Service, and you've scheduled a job. Click another, and you've sent that job to iFleet. Recurring work, emergency work, multi-day work, there's nothing this field service app can't handle. At the beginning of each day, your employees will find their schedules waiting for them on their mobile devices. No more slow starts, confusion, or mornings lost to horseplay. iFleet offers a better way to manage service work orders.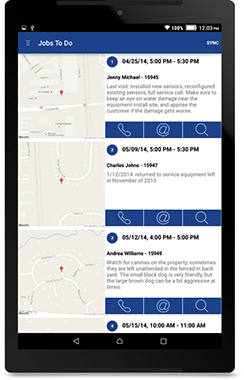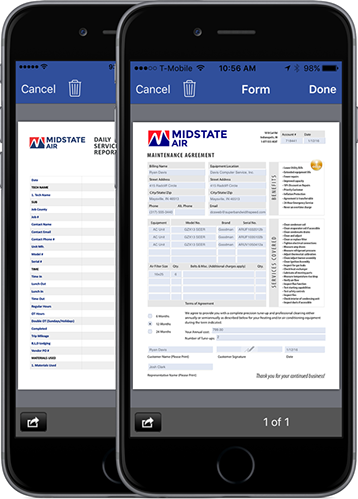 Digital, Fillable Forms

No doubt, you already have an array of custom forms to facilitate your job process. No doubt, you've seen these forms come back covered with ketchup, water, dirt, and illegible handwriting. iFleet will end these woes. Digitize your existing forms and bring them into our mobile work order app as fillable documents. With iFleet, techs can fill and file paperwork in the field, instantly sharing completed paperwork with office personnel. Request an iFleet demo to see how it works!
Field Service Mobile App with True Customizability
---
Every business is different, which is why iFleet was built with flexibility in mind. Some companies want to give their field crews access to everything. Other teams need to limit the information that their members see. Whatever the case, iFleet lets you manage work order deployment the way you've always wanted. User-defined fields let you track any data you can think of, from building age to pH level. iFleet is a field service app that scales with your business without adding hassle or costs.